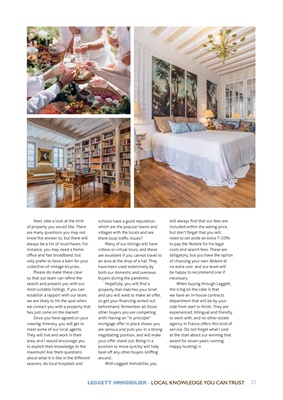 Next, take a look at the kind
of property you would like. There
are many questions you may not
know the answer to, but there will
always be a list of must-haves. For
instance, you may need a home
office and fast broadband, but
only prefer to have a barn for your
collection of vintage bicycles.
Please do make these clear
so that our team can refine the
search and present you with our
most suitable listings. If you can
establish a rapport with our team,
we are likely to hit the spot when
we contact you with a property that
has just come on the market!
Once you have agreed on your
viewing itinerary, you will get to
meet some of our local agents.
They will live and work in their
area, and I would encourage you
to exploit their knowledge to the
maximum! Ask them questions
about what it is like in the different
seasons, do local hospitals and
schools have a good reputation,
which are the popular towns and
villages with the locals and are
there local traffic issues?
Many of our listings will have
videos or virtual tours, and these
are excellent if you cannot travel to
an area at the drop of a hat. They
have been used extensively by
both our domestic and overseas
buyers during the pandemic.
Hopefully, you will find a
property that matches your brief,
and you will want to make an offer,
so get your financing sorted out
beforehand. Remember all those
other buyers you are competing
with! Having an "in principle"
mortgage offer in place shows you
are serious and puts you in a strong
negotiating position, and will make
your offer stand out. Being in a
position to move quickly will help
beat off any other buyers sniffing
around.
With Leggett Immobilier, you
LEGGETT IMMOBILIER - LOCAL KNOWLEDGE YOU CAN TRUST 13
will always find that our fees are
included within the asking price,
but don't forget that you will
need to set aside an extra 7-10%
to pay the Notaire for his legal
costs and search fees. These are
obligatory, but you have the option
of choosing your own Notaire at
no extra cost and our team will
be happy to recommend one if
necessary.
When buying through Leggett,
the icing on the cake is that
we have an in-house contracts
department that will be by your
side from start to finish. They are
experienced, bilingual and friendly
to work with, and no other estate
agency in France offers this kind of
service. Do not forget what I said
at the start about our winning that
award for seven years running.
Happy hunting!