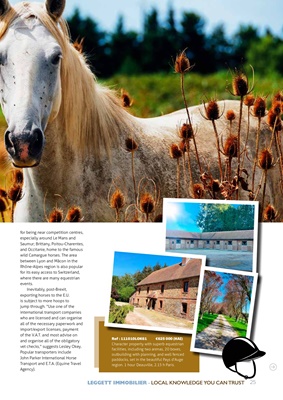 for being near competition centres,
especially around Le Mans and
Saumur; Brittany, Poitou-Charentes,
and Occitanie, home to the famous
wild Camargue horses. The area
between Lyon and Mâcon in the
Rhône-Alpes region is also popular
for its easy access to Switzerland,
where there are many equestrian
events.
Inevitably, post-Brexit,
exporting horses to the E.U.
is subject to more hoops to
jump through. "Use one of the
international transport companies
who are licensed and can organise
all of the necessary paperwork and
import/export licenses, payment
of the V.A.T. and most advise on
and organise all of the obligatory
vet checks," suggests Lesley Okey.
Popular transporters include
John Parker International Horse
Transport and E.T.A. (Equine Travel
Agency).
25
LEGGETT IMMOBILIER - LOCAL KNOWLEDGE YOU CAN TRUST
Ref : 111010LOK61 €625 000 (HAI)
Character property with superb equestrian
facilities, including two arenas, 20 boxes,
outbuilding with planning, and well fenced
paddocks, set in the beautiful Pays d'Auge
region. 1 hour Deauville, 2.15 h Paris.