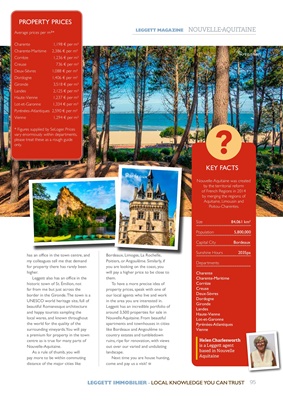 Bordeaux, Limoges, La Rochelle,
Poitiers, or Angoulême. Similarly, if
you are looking on the coast, you
will pay a higher price to be close to
them.
To have a more precise idea of
property prices, speak with one of
our local agents who live and work
in the area you are interested in.
Leggett has an incredible portfolio of
around 3,500 properties for sale in
Nouvelle Aquitaine. From beautiful
apartments and townhouses in cities
like Bordeaux and Angoulême to
country estates and tumbledown
ruins, ripe for renovation, with views
out over our varied and undulating
landscape.
Next time you are house hunting,
come and pay us a visit!
LEGGETT MAGAZINE NOUVELLE-AQUITAINE
has an office in the town centre, and
my colleagues tell me that demand
for property there has rarely been
higher.
Leggett also has an office in the
historic town of St. Émilion, not
far from me but just across the
border in the Gironde. The town is a
UNESCO world heritage site, full of
beautiful Romanesque architecture
and happy tourists sampling the
local wares, and known throughout
the world for the quality of the
surrounding vineyards. You will pay
a premium for property in the town
centre as is true for many parts of
Nouvelle-Aquitaine.
As a rule of thumb, you will
pay more to be within commuting
distance of the major cities like
KEY FACTS
Nouvelle-Aquitaine was created
by the territorial reform
of French Regions in 2014
by merging the regions: of
Aquitaine, Limousin and
Poitou-Charentes.
Size 84,061 km²
Population 5,800,000
Capital City Bordeaux
Sunshine Hours 2035pa
Departments:
Charente
Charente-Maritime
Corrèze
Creuse
Deux-Sèvres
Dordogne
Gironde
Landes
Haute-Vienne
Lot-et-Garonne
Pyrénées-Atlantiques
Vienne
Arcachon
Average prices per m²*
Charente 1,198 € per m²
Charente-Maritime 2,386 € per m²
Corrèze 1,236 € per m²
Creuse 736 € per m²
Deux-Sèvres 1,088 € per m²
Dordogne 1,406 € per m²
Gironde 3,518 € per m²
Landes 2,125 € per m²
Haute-Vienne 1,237 € per m²
Lot-et-Garonne 1,334 € per m²
Pyrénées-Atlantiques 2,590 € per m²
Vienne 1,294 € per m²
* Figures supplied by SeLoger. Prices
vary enormously within departments,
please treat these as a rough guide
only.
PROPERTY PRICES
Bordeaux
95
LEGGETT IMMOBILIER - LOCAL KNOWLEDGE YOU CAN TRUST
Helen Charlesworth
is a Leggett agent
based in Nouvelle
Aquitaine
?