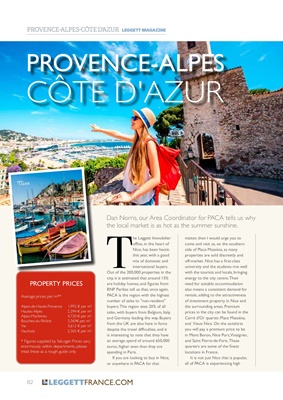 PROVENCE-ALPES-CÔTE D'AZUR LEGGETT MAGAZINE
82
T
he Leggett Immobilier
office, in the heart of
Nice, has been hectic
this year, with a good
mix of domestic and
international buyers.
Out of the 200,000 properties in the
city, it is estimated that around 15%
are holiday homes, and figures from
BNP Paribas tell us that, once again,
PACA is the region with the highest
number of sales to "non-resident"
buyers. This region sees 20% of all
sales, with buyers from Belgium, Italy,
and Germany leading the way. Buyers
from the UK are also here in force
despite the travel difficulties, and it
is interesting to note that they have
an average spend of around 650,000
euros, higher even than they are
spending in Paris.
If you are looking to buy in Nice,
or anywhere in PACA for that
matter, then I would urge you to
come and visit us, on the southern
side of Place Masséna, as many
properties are sold discreetly and
off-market. Nice has a first-class
university and the students mix well
with the tourists and locals, bringing
energy to the city centre. Their
need for suitable accommodation
also means a consistent demand for
rentals, adding to the attractiveness
of investment property in Nice and
the surrounding areas. Premium
prices in the city can be found in the
Carré d'Or quarter, Place Masséna,
and Vieux Nice. On the outskirts
you will pay a premium price to be
in Mont Boron, Nice Port, Vinaigrier,
and Saint Pierre-de-Feric. These
quarters are some of the finest
locations in France.
It is not just Nice that is popular,
all of PACA is experiencing high
Dan Norris, our Area Coordinator for PACA tells us why
the local market is as hot as the summer sunshine.
PROVENCE-ALPES
CÔTE D'AZUR
LEGGETTFRANCE.COM
Average prices per m²*
Alpes-de-Haute-Provence 1,992 € per m²
Hautes-Alpes 2,394 € per m²
Alpes-Maritimes 4,720 € per m²
Bouches-du-Rhône 3,369€ per m²
Var 3,612 € per m²
Vaucluse 2,365 € per m²
* Figures supplied by SeLoger. Prices vary
enormously within departments, please
treat these as a rough guide only.
PROPERTY PRICES
Nice