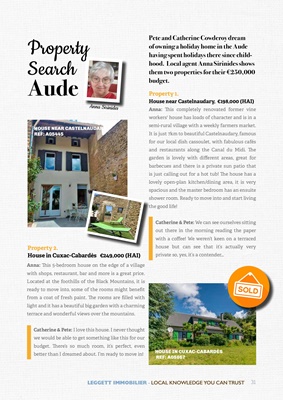 6.
Pete and Catherine Cowderoy dream
of owning a holiday home in the Aude
having spent holidays there since childhood. Local agent Anna Sirinides shows
them two properties for their €250,000
budget.
Anna: This completely renovated former vine
workers' house has loads of character and is in a
semi-rural village with a weekly farmers market.
It is just 7km to beautiful Castelnaudary, famous
for our local dish cassoulet, with fabulous cafés
and restaurants along the Canal du Midi. The
garden is lovely with different areas, great for
barbecues and there is a private sun patio that
is just calling out for a hot tub! The house has a
lovely open-plan kitchen/dining area, it is very
spacious and the master bedroom has an ensuite
shower room. Ready to move into and start living
the good life!
Catherine & Pete: We can see ourselves sitting
out there in the morning reading the paper
with a coffee! We weren't keen on a terraced
house but can see that it's actually very
private so, yes, it's a contender…
Property
Search
Aude
Anna: This 5-bedroom house on the edge of a village
with shops, restaurant, bar and more is a great price.
Located at the foothills of the Black Mountains, it is
ready to move into, some of the rooms might benefit
from a coat of fresh paint. The rooms are filled with
light and it has a beautiful big garden with a charming
terrace and wonderful views over the mountains.
Catherine & Pete: I love this house. I never thought
we would be able to get something like this for our
budget. There's so much room, it's perfect, even
better than I dreamed about. I'm ready to move in!
HOUSE IN CUXAC-CABARDÈS
REF: A05867
HOUSE NEAR CASTELNAUDARY
REF: A05445
Property 1.
House near Castelnaudary, €198,000 (HAI)
Property 2.
House in Cuxac-Cabardès €249,000 (HAI)
31
LEGGETT IMMOBILIER - LOCAL KNOWLEDGE YOU CAN TRUST
Anna Sirinides