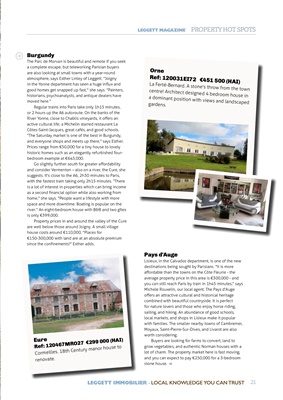 21
Burgundy
The Parc de Morvan is beautiful and remote if you seek
a complete escape, but teleworking Parisian buyers
are also looking at small towns with a year-round
atmosphere, says Esther Linley of Leggett. "Joigny
in the Yonne department has seen a huge influx and
good homes get snapped up fast," she says. "Painters,
historians, psychoanalysts, and antique dealers have
moved here."
Regular trains into Paris take only 1h15 minutes,
or 2 hours up the A6 autoroute. On the banks of the
River Yonne, close to Chablis vineyards, it offers an
active cultural life; a Michelin starred restaurant La
Côtes-Saint-Jacques, great cafés, and good schools.
"The Saturday market is one of the best in Burgundy,
and everyone shops and meets up there," says Esther.
Prices range from €50,000 for a tiny house to lovely
historic homes such as an elegantly refurbished fourbedroom
example at €645,000.
Go slightly further south for greater affordability
and consider Vermenton - also on a river, the Cure, she
suggests. It's close to the A6, 2h30 minutes to Paris,
with the fastest train taking only 2h15 minutes. "There
is a lot of interest in properties which can bring income
as a second financial option while also working from
home," she says. "People want a lifestyle with more
space and more downtime. Boating is popular on the
river." An eight-bedroom house with B&B and two gîtes
is only €399,000.
Property prices in and around the valley of the Cure
are well below those around Joigny. A small village
house costs around €110,000. "Places for
€150-300,000 with land are at an absolute premium
since the confinements!" Esther adds.
Pays d'Auge
Lisieux, in the Calvados department, is one of the new
destinations being sought by Parisians. "It is more
affordable than the towns on the Côte Fleurie - the
average property price in this area is €300,000 - and
you can still reach Paris by train in 1h45 minutes," says
Michele Rouxelin, our local agent. The Pays d'Auge
offers an attractive cultural and historical heritage
combined with beautiful countryside. It is perfect
for nature lovers and those who enjoy horse riding,
sailing, and hiking. An abundance of good schools,
local markets, and shops in Lisieux make it popular
with families. The smaller nearby towns of Cambremer,
Moyaux, Saint-Pierre-Sur-Dives, and Livarot are also
worth considering.
Buyers are looking for farms to convert, land to
grow vegetables, and authentic Norman houses with a
lot of charm. The property market here is fast moving,
and you can expect to pay €250,000 for a 3-bedroom
stone house.
Eure
Ref: 120467MRO27 €299 000 (HAI)
Cormeilles. 18th Century manor house to
renovate.
Orne
Ref: 120031EI72 €451 500 (HAI)
La Ferté-Bernard. A stone's throw from the town
centre! Architect designed 4 bedroom house in
a dominant position with views and landscaped
gardens.
LEGGETT IMMOBILIER - LOCAL KNOWLEDGE YOU CAN TRUST
LEGGETT MAGAZINE PROPERTY HOT SPOTS