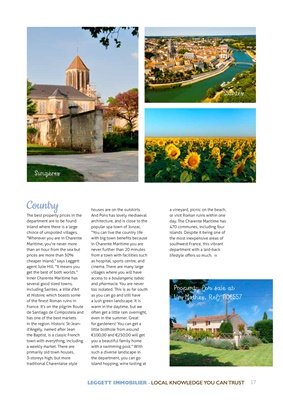 LEGGETT IMMOBILIER - LOCAL KNOWLEDGE YOU CAN TRUST 17
CountryThe best property prices in the
department are to be found
inland where there is a large
choice of unspoiled villages.
"Wherever you are in Charente
Maritime, you're never more
than an hour from the sea but
prices are more than 50%
cheaper inland," says Leggett
agent Julie Hill. "It means you
get the best of both worlds."
Inner Charente Maritime has
several good sized towns,
including Saintes, a Ville d'Art
et Histoire, which boasts some
of the finest Roman ruins in
France. It's on the pilgrim Route
de Santiago de Compostela and
has one of the best markets
in the region. Historic St-Jeand'Angély,
named after Jean
the Baptist, is a classic French
town with everything, including
a weekly market. There are
primarily old town houses,
3-storeys high, but more
traditional Charentaise style
Canal-du-Midi
Surgères
houses are on the outskirts.
And Pons has lovely mediaeval
architecture, and is close to the
popular spa town of Jonzac.
"You can live the country life
with big town benefits because
in Charente Maritime you are
never further than 20 minutes
from a town with facilities such
as hospital, sports centre, and
cinema. There are many large
villages where you will have
access to a boulangerie, tabac
and pharmacie. You are never
too isolated. This is as far south
as you can go and still have
a lush green landscape. It is
warm in the daytime, but we
often get a little rain overnight,
even in the summer. Great
for gardeners! You can get a
little bolthole from around
€100,00 and €250,00 will get
you a beautiful family home
with a swimming pool." With
such a diverse landscape in
the department, you can go
island hopping, wine tasting at
a vineyard, picnic on the beach,
or visit Roman ruins within one
day. The Charente Maritime has
470 communes, including four
islands. Despite it being one of
the most inexpensive areas of
southwest France, this vibrant
department with a laid-back
lifestyle offers so much.
Property for sale at
Les Mathes. Ref: A06557
Saintes