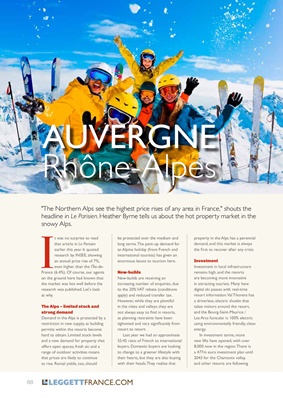 I
t was no surprise to read
that article in Le Parisien
earlier this year. It quoted
research by INSEE, showing
an annual price rise of 7%,
even higher than the l'Île-de-
France (6.4%). Of course, our agents
on the ground here had known that
the market was hot well before the
research was published. Let's look
at why.
The Alps - limited stock and
strong demand
Demand in the Alps is protected by a
restriction in new supply, as building
permits within the resorts become
hard to obtain. Limited stock levels
and a new demand for property that
offers open spaces, fresh air, and a
range of outdoor activities means
that prices are likely to continue
to rise. Rental yields, too, should
be protected over the medium and
long terms. The pent-up demand for
an Alpine holiday (from French and
international tourists) has given an
enormous boost to tourism here.
New-builds
New-builds are receiving an
increasing number of enquiries, due
to the 20% VAT rebate (conditions
apply) and reduced transfer tax.
However, while they are plentiful
in the cities and valleys, they are
not always easy to find in resorts,
as planning restraints have been
tightened and vary significantly from
resort to resort.
Last year we had an approximate
55:45 ratio of French to international
buyers. Domestic buyers are looking
to change to a greener lifestyle with
their hearts, but they are also buying
with their heads. They realise that
property in the Alps has a perennial
demand, and this market is always
the first to recover after any crisis.
Investment
Investment in local infrastructure
remains high, and the resorts
are becoming more innovative
in attracting tourists. Many have
digital ski passes with real-time
resort information. Val Thorens has
a driverless, electric shuttle that
takes visitors around the resort,
and the Bourg-Saint-Maurice /
Les Arcs funicular is 100% electric
using environmentally friendly, clean
energy.
In investment terms, more
new lifts have opened, with over
8,000 now in the region. There is
a 477m euro investment plan until
2043 for the Chamonix valley,
and other resorts are following
88 AUVERGNE
Rhône-Alpes
"The Northern Alps see the highest price rises of any area in France," shouts the
headline in Le Parisien. Heather Byrne tells us about the hot property market in the
snowy Alps.
Méribel
LEGGETTFRANCE.COM