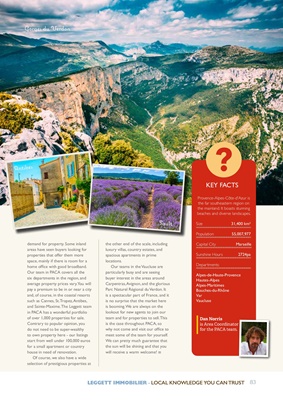 83
LEGGETT IMMOBILIER - LOCAL KNOWLEDGE YOU CAN TRUST
demand for property. Some inland
areas have seen buyers looking for
properties that offer them more
space, mainly if there is room for a
home office with good broadband.
Our team in PACA covers all the
six departments in the region, and
average property prices vary. You will
pay a premium to be in or near a city
and, of course, in the coastal resorts
such as Cannes, St. Tropez, Antibes,
and Sainte-Maxime. The Leggett team
in PACA has a wonderful portfolio
of over 1,000 properties for sale.
Contrary to popular opinion, you
do not need to be super-wealthy
to own property here - our listings
start from well under 100,000 euros
for a small apartment or country
house in need of renovation.
Of course, we also have a wide
selection of prestigious properties at
the other end of the scale, including
luxury villas, country estates, and
spacious apartments in prime
locations.
Our teams in the Vaucluse are
particularly busy and are seeing
buyer interest in the areas around
Carpentras, Avignon, and the glorious
Parc Naturel Régional du Verdon. It
is a spectacular part of France, and it
is no surprise that the market here
is booming. We are always on the
lookout for new agents to join our
team and for properties to sell. This
is the case throughout PACA, so
why not come and visit our office to
meet some of the team for yourself.
We can pretty much guarantee that
the sun will be shining and that you
will receive a warm welcome!
Gorges du Verdon
Antibes
KEY FACTS
Provence-Alpes-Côte-d'Azur is
the far southeastern region on
the mainland. It boasts stunning
beaches and diverse landscapes.
Size 31,400 km²
Population 55,007,977
Capital City Marseille
Sunshine Hours 2724pa
Departments:
Alpes-de-Haute-Provence
Hautes-Alpes
Alpes-Maritimes
Bouches-du-Rhône
Var
Vaucluse
Dan Norris
is Area Coordinator
for the PACA team.
?
Sault