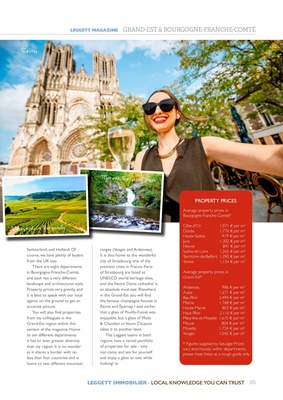 LEGGETT IMMOBILIER - LOCAL KNOWLEDGE YOU CAN TRUST
Switzerland, and Holland. Of
course, we have plenty of buyers
from the UK too.
There are eight departments
in Bourgogne-Franche-Comté,
and each has a very different
landscape and architectural style.
Property prices vary greatly, and
it is best to speak with our local
agents on the ground to get an
accurate picture.
You will also find properties
from my colleagues in the
Grand-Est region within this
section of the magazine. Home
to ten different departments
it has an even greater diversity
than my region. It is no wonder
as it shares a border with no
less than four countries and is
home to two different mountain
ranges (Vosges and Ardennes).
It is also home to the wonderful
city of Strasbourg, one of the
prettiest cities in France. Parts
of Strasbourg are listed as
UNESCO world heritage sites,
and the Notre Dame cathedral is
an absolute must-see. Elsewhere
in the Grand-Est you will find
the famous champagne houses in
Reims and Épernay. I said earlier
that a glass of Pouilly-Fuissé was
enjoyable, but a glass of Moët
& Chandon or Veuve Clicquot
takes it to another level.
The Leggett teams in both
regions have a varied portfolio
of properties for sale - why
not come and see for yourself
and enjoy a glass or two while
looking!
65
Reims
Beautiful countryside
in Meurthe-et-Moselle
Average property prices in
Bourgogne-Franche-Comté*
Côte-d'Or 1,971 € per m²
Doubs 1,776 € per m²
Haute-Saône 919 € per m²
Jura 1,302 € per m²
Nievre 891 € per m²
Saône-et-Loire 1,265 € per m²
Territoire-de-Belfort 1,390 € per m²
Yonne 1,154 € per m²
Average property prices in
Grand-Est*
Ardennes 986 € per m²
Aube 1,271 € per m²
Bas-Rhin 2,494 € per m²
Marne 1,768 € per m²
Haute-Marne 803 € per m²
Haut-Rhin 2,116 € per m²
Meurthe-et-Moselle 1,615 € per m²
Meuse 804 € per m²
Moselle 1,724 € per m²
Vosges 1,042 € per m²
* Figures supplied by SeLoger. Prices
vary enormously within departments,
please treat these as a rough guide only.
PROPERTY PRICES
Morvan Regional Park
Vineyards in Burgundy
LEGGETT MAGAZINE GRAND-EST & BOURGOGNE-FRANCHE-COMTÉ