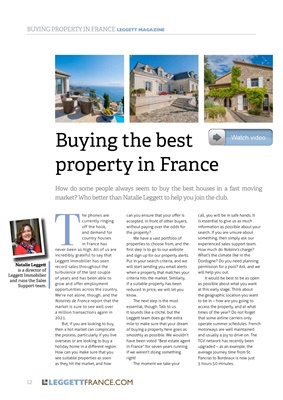 com/watch?v=7PzY0TmH70w&list=PL6Yz8T0k6n4beUAQTSe5q3xhfizXMgOXh&index=1
12 LEGGETTFRANCE.COM
BUYING PROPERTY IN FRANCE LEGGETT MAGAZINE
The phones are
currently ringing
off the hook,
and demand for
country houses
in France has
never been so high. All of us are
incredibly grateful to say that
Leggett Immobilier has seen
record sales throughout the
turbulence of the last couple
of years and has been able to
grow and offer employment
opportunities across the country.
We're not alone, though, and the
Notaires de France report that the
market is sure to see well over
a million transactions again in
2021.
But, if you are looking to buy,
then a hot market can complicate
the process, particularly if you live
overseas or are looking to buy a
holiday home in a different region.
How can you make sure that you
see suitable properties as soon
as they hit the market, and how
can you ensure that your offer is
accepted, in front of other buyers,
without paying over the odds for
the property?
We have a vast portfolio of
properties to choose from, and the
first step is to go to our website
and sign up for our property alerts.
Put in your search criteria, and we
will start sending you email alerts
when a property that matches your
criteria hits the market. Similarly,
if a suitable property has been
reduced in price, we will let you
know.
The next step is the most
essential, though. Talk to us.
It sounds like a cliché, but the
Leggett team does go the extra
mile to make sure that your dream
of buying a property here goes as
smoothly as possible. We wouldn't
have been voted "Best estate agent
in France" for seven years running
if we weren't doing something
right!
The moment we take your
How do some people always seem to buy the best houses in a fast moving
market? Who better than Natalie Leggett to help you join the club.
Buying the best
property in France
call, you will be in safe hands. It
is essential to give us as much
information as possible about your
search. If you are unsure about
something, then simply ask our
experienced sales support team.
How much do Notaire's charge?
What's the climate like in the
Dordogne? Do you need planning
permission for a pool? Ask, and we
will help you out.
It would be best to be as open
as possible about what you want
at this early stage. Think about
the geographic location you want
to be in - how are you going to
access the property, and at what
times of the year? Do not forget
that some airline carriers only
operate summer schedules. French
motorways are well maintained
and usually a joy to drive on. The
TGV network has recently been
upgraded - as an example, the
average journey time from St.
Pancras to Bordeaux is now just
5 hours 50 minutes.
Natalie Leggett
is a director of
Leggett Immobilier
and runs the Sales
Support team.