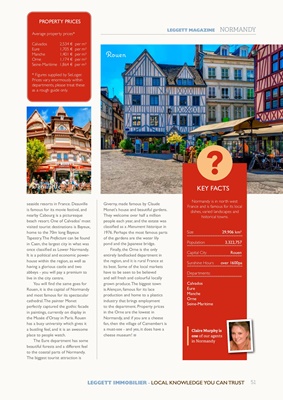 51
LEGGETT IMMOBILIER - LOCAL KNOWLEDGE YOU CAN TRUST
LEGGETT MAGAZINE NORMANDY
seaside resorts in France. Deauville
is famous for its movie festival, and
nearby Cabourg is a picturesque
beach resort. One of Calvados' most
visited tourist destinations is Bayeux,
home to the 70m long Bayeux
Tapestry. The Prefecture can be found
in Caen, the largest city in what was
once classified as Lower Normandy.
It is a political and economic powerhouse within the region,
as well as
having a glorious castle and two
abbeys - you will pay a premium to
live in the city centre.
You will find the same goes for
Rouen, it is the capital of Normandy
and most famous for its spectacular
cathedral. The painter Monet
perfectly captured the gothic facade
in paintings, currently on display in
the Musée d'Orsay in Paris. Rouen
has a busy university which gives it
a bustling feel, and it is an awesome
place to people watch.
The Eure department has some
beautiful forests and a different feel
to the coastal parts of Normandy.
The biggest tourist attraction is
Giverny, made famous by Claude
Monet's house and beautiful gardens.
They welcome over half a million
people each year, and the estate was
classified as a Monument historique in
1976. Perhaps the most famous parts
of the gardens are the water lily
pond and the Japanese bridge.
Finally, the Orne is the only
entirely landlocked department in
the region, and it is rural France at
its best. Some of the local markets
have to be seen to be believed
and sell fresh and colourful locally
grown produce. The biggest town
is Alençon, famous for its lace
production and home to a plastics
industry that brings employment
to the department. Property prices
in the Orne are the lowest in
Normandy, and if you are a cheese
fan, then the village of Camembert is
a must-see - and yes, it does have a
cheese museum!
KEY FACTS
Normandy is in north west
France and is famous for its local
dishes, varied landscapes and
historical towns.
Size 29,906 km²
Population 3,322,757
Capital City Rouen
Sunshine Hours over 1600pa
Departments:
Calvados
Eure
Manche
Orne
Seine-Maritime
Claire Murphy is
one of our agents
in Normandy
?
Average property prices*
Calvados 2,534 € per m²
Eure 1,705 € per m²
Manche 1,401 € per m²
Orne 1,174 € per m²
Seine-Maritime 1,864 € per m²
* Figures supplied by SeLoger.
Prices vary enormously within
departments, please treat these
as a rough guide only.
PROPERTY PRICES
Deauville
Rouen