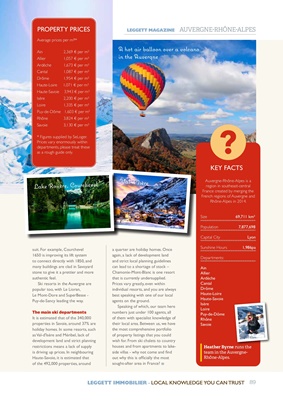 LEGGETT MAGAZINE AUVERGNE-RHÔNE-ALPES
suit. For example, Courchevel
1650 is improving its lift system
to connect directly with 1850, and
many buildings are clad in Savoyard
stone to give it a prettier and more
authentic feel.
Ski resorts in the Auvergne are
popular too, with Le Lioran,
Le Mont-Dore and SuperBesse -
Puy-de-Sancy leading the way.
The main ski departments
It is estimated that of the 340,000
properties in Savoie, around 37% are
holiday homes. In some resorts, such
as Val-d'Isère and Méribel, lack of
development land and strict planning
restrictions means a lack of supply
is driving up prices. In neighbouring
Haute-Savoie, it is estimated that
of the 492,000 properties, around
a quarter are holiday homes. Once
again, a lack of development land
and strict local planning guidelines
can lead to a shortage of stock -
Chamonix-Mont-Blanc is one resort
that is currently undersupplied.
Prices vary greatly, even within
individual resorts, and you are always
best speaking with one of our local
agents on the ground.
Speaking of which, our team here
numbers just under 100 agents, all
of them with specialist knowledge of
their local area. Between us, we have
the most comprehensive portfolio
of property listings that you could
wish for. From ski chalets to country
houses and from apartments to lakeside villas - why
not come and find
out why this is officially the most
sought-after area in France?
89
LEGGETT IMMOBILIER - LOCAL KNOWLEDGE YOU CAN TRUST
Average prices per m²*
Ain 2,369 € per m²
Allier 1,057 € per m²
Ardèche 1,673 € per m²
Cantal 1,087 € per m²
Drôme 1,954 € per m²
Haute-Loire 1,071 € per m²
Haute-Savoie 3,943 € per m²
Isère 2,200 € per m²
Loire 1,335 € per m²
Puy-de-Dôme 1,603 € per m²
Rhône 3,824 € per m²
Savoie 3,130 € per m²
* Figures supplied by SeLoger.
Prices vary enormously within
departments, please treat these
as a rough guide only.
PROPERTY PRICES
KEY FACTS
Auvergne-Rhône-Alpes is a
region in southeast-central
France created by merging the
French regions of Auvergne and
Rhône-Alpes in 2014.
Size 69,711 km²
Population 7,877,698
Capital City Lyon
Sunshine Hours 1,986pa
Departments:
Ain
Allier
Ardèche
Cantal
Drôme
Haute-Loire
Haute-Savoie
Isère
Loire
Puy-de-Dôme
Rhône
Savoie
Heather Byrne runs the
team in the Auvergne-
RhÔne-Alpes.
?
A hot air balloon over a volcano
in the Auvergne
Val-d'Isère
Lake Rosière, Courchevel