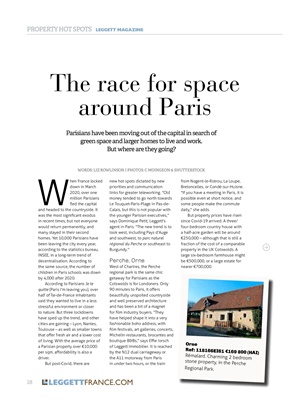 from Nogent-le-Rotrou, La Loupe,
Bretoncelles, or Condé-sur-Huisne.
"If you have a meeting in Paris, it is
possible even at short notice, and
some people make the commute
daily," she adds.
But property prices have risen
since Covid-19 arrived. A three/
four-bedroom country house with
a half-acre garden will be around
€250,000 - although that is still a
fraction of the cost of a comparable
property in the UK Cotswolds. A
large six-bedroom farmhouse might
be €500,000, or a large estate for
nearer €700,000.
18 LEGGETTFRANCE.COM
new hot spots dictated by new
priorities and communication
links for greater teleworking. "Old
money tended to go north towards
Le Touquet-Paris-Plage in Pas-deCalais,
but this is not popular with
the younger Parisian executives,"
says Dominique Petit, Leggett's
agent in Paris. "The new trend is to
look west, including Pays d'Auge
and southwest, to parc naturel
régional du Perche or southeast to
Burgundy."
Perche, Orne
West of Chartres, the Perche
regional park is the same chic
getaway for Parisians as the
Cotswolds is for Londoners. Only
90 minutes to Paris, it offers
beautifully unspoiled countryside
and well preserved architecture
and has been a bit of a magnet
for film industry buyers. "They
have helped shape it into a very
fashionable boho address, with
film festivals, art galleries, concerts,
Michelin restaurants, brocantes and
boutique B&Bs," says Effie Iorsch
of Leggett Immobilier. It is reached
by the N12 dual carriageway or
the A11 motorway from Paris
in under two hours, or the train
W
hen France locked
down in March
2020, over one
million Parisians
fled the capital
and headed to the countryside. It
was the most significant exodus
in recent times, but not everyone
would return permanently, and
many stayed in their second
homes. Yet 10,000 Parisians have
been leaving the city every year,
according to the statistics bureau,
INSEE, in a long-term trend of
decentralisation. According to
the same source, the number of
children in Paris schools was down
by 4,000 after 2020.
According to Parisians Je te
quitte (Paris I'm leaving you), over
half of Île-de-France inhabitants
said they wanted to live in a less
stressful environment or closer
to nature. But three lockdowns
have sped up the trend, and other
cities are gaining - Lyon, Nantes,
Toulouse - as well as smaller towns
that offer fresh air and a lower cost
of living. With the average price of
a Parisian property over €10,000
per sqm, affordability is also a
driver.
But post-Covid, there are
PROPERTY HOT SPOTS LEGGETT MAGAZINE
Orne
Ref: 118166EI61 €169 800 (HAI)
Rémalard. Charming 2 bedroom
stone property, in the Perche
Regional Park.
Parisians have been moving out of the capital in search of
green space and larger homes to live and work.
But where are they going?
WORDS: LIZ ROWLINSON I PHOTOS: C MOINGEON & SHUTTERSTOCK
The race for space
around Paris