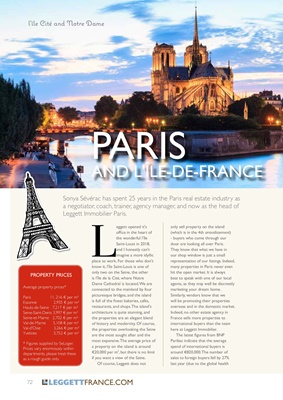 72 LEGGETTFRANCE.COM
L
eggett opened it's
office in the heart of
the wonderful l'île
Saint-Louis in 2018,
and I honestly can't
imagine a more idyllic
place to work. For those who don't
know it, l'île Saint-Louis is one of
only two on the Seine, the other
is l'île de la Cité, where Notre
Dame Cathedral is located. We are
connected to the mainland by four
picturesque bridges, and the island
is full of the finest bakeries, cafés,
restaurants, and shops. The island's
architecture is quite stunning, and
the properties are an elegant blend
of history and modernity. Of course,
the properties overlooking the Seine
are the most sought after and the
most expensive. The average price of
a property on the island is around
€20,000 per m², but there is no limit
if you want a view of the Seine.
Of course, Leggett does not
Sonya Sévérac has spent 25 years in the Paris real estate industry as
a negotiator, coach, trainer, agency manager, and now as the head of
Leggett Immobilier Paris.
only sell property on the island
(which is in the 4th arrondissement)
- buyers who come through our
door are looking all over Paris.
They know that what we have in
our shop window is just a small
representation of our listings. Indeed,
many properties in Paris never even
hit the open market. It is always
best to speak with one of our local
agents, as they may well be discreetly
marketing your dream home.
Similarly, vendors know that we
will be promoting their properties
overseas and in the domestic market.
Indeed, no other estate agency in
France sells more properties to
international buyers than the team
here at Leggett Immobilier.
The latest figures from BNP
Paribas indicate that the average
spend of international buyers is
around €820,000. The number of
sales to foreign buyers fell by 27%
last year (due to the global health
PARIS AND L'ÎLE-DE-FRANCE
Montmarte
l'île Cité and Notre Dame
Average property prices*
Paris 11, 216 € per m²
Essonne 2,955 € per m²
Hauts-de-Seine 7,217 € per m²
Seine-Saint-Denis 3,997 € per m²
Seine-et-Marne 2,702 € per m²
Val-de-Marne 5,108 € per m²
Val-d'Oise 3,266 € per m²
Yvelines 3,752 € per m²
* Figures supplied by SeLoger.
Prices vary enormously within
departments, please treat these
as a rough guide only.
PROPERTY PRICES