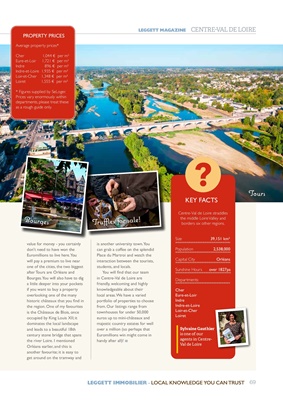 69
LEGGETT IMMOBILIER - LOCAL KNOWLEDGE YOU CAN TRUST
KEY FACTS
Centre-Val de Loire straddles
the middle Loire Valley and
borders six other regions.
Size 39,151 km²
Population 2,538,000
Capital City Orléans
Sunshine Hours over 1827pa
Departments:
Cher
Eure-et-Loir
Indre
Indre-et-Loire
Loir-et-Cher
Loiret
Sylvaine Gauthier
is one of our
agents in CentreVal
de Loire
?
value for money - you certainly
don't need to have won the
Euromillions to live here. You
will pay a premium to live near
one of the cities, the two biggest
after Tours are Orléans and
Bourges. You will also have to dig
a little deeper into your pockets
if you want to buy a property
overlooking one of the many
historic châteaux that you find in
the region. One of my favourites
is the Châteaux de Blois, once
occupied by King Louis XII; it
dominates the local landscape
and leads to a beautiful 18th
century stone bridge that spans
the river Loire. I mentioned
Orléans earlier, and this is
another favourite; it is easy to
get around on the tramway and
is another university town. You
can grab a coffee on the splendid
Place du Martroi and watch the
interaction between the tourists,
students, and locals.
You will find that our team
in Centre-Val de Loire are
friendly, welcoming and highly
knowledgeable about their
local areas. We have a varied
portfolio of properties to choose
from. Our listings range from
townhouses for under 50,000
euros up to mini-châteaux and
majestic country estates for well
over a million (so perhaps that
Euromillions win might come in
handy after all)!
Average property prices*
Cher 1,044 € per m²
Eure-et-Loir 1,721 € per m²
Indre 896 € per m²
Indre-et-Loire 1,935 € per m²
Loir-et-Cher 1,348 € per m²
Loiret 1,555 € per m²
* Figures supplied by SeLoger.
Prices vary enormously within
departments, please treat these
as a rough guide only.
PROPERTY PRICES
LEGGETT MAGAZINE CENTRE-VAL DE LOIRE
Tours
Truffles for sale!
Bourges