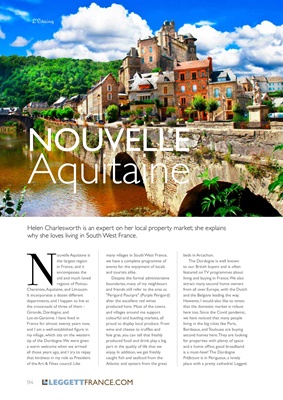 NOUVELLE
Aquitaine
N
ouvelle Aquitaine is
the largest region
in France, and it
encompasses the
old and much loved
regions of PoitouCharentes,
Aquitaine, and Limousin.
It incorporates a dozen different
departments, and I happen to live at
the crossroads of three of them -
Gironde, Dordogne, and
Lot-et-Garonne. I have lived in
France for almost twenty years now,
and I am a well-established figure in
my village, which sits on the western
tip of the Dordogne. We were given
a warm welcome when we arrived
all those years ago, and I try to repay
that kindness in my role as President
of the Art & Fêtes council. Like
Helen Charlesworth is an expert on her local property market; she explains
why she loves living in South West France.
many villages in South West France,
we have a complete programme of
events for the enjoyment of locals
and tourists alike.
Despite the formal administrative
boundaries, many of my neighbours
and friends still refer to the area as
"Perigord Pourpre" (Purple Perigord)
after the excellent red wines
produced here. Most of the towns
and villages around me support
colourful and bustling markets, all
proud to display local produce. From
wine and cheese to truffles and
foie gras, you can tell that freshly
produced food and drink play a big
part in the quality of life that we
enjoy. In addition, we get freshly
caught fish and seafood from the
Atlantic and oysters from the great
94 LEGGETTFRANCE.COM
L'Estaing
beds in Arcachon.
The Dordogne is well known
to our British buyers and is often
featured on TV programmes about
living and buying in France. We also
attract many second home owners
from all over Europe, with the Dutch
and the Belgians leading the way.
However, I would also like to stress
that the domestic market is robust
here too. Since the Covid pandemic,
we have noticed that many people
living in the big cities like Paris,
Bordeaux, and Toulouse are buying
second homes here. They are looking
for properties with plenty of space
and a home office; good broadband
is a must-have! The Dordogne
Préfecture is in Périgueux, a lovely
place with a pretty cathedral. Leggett