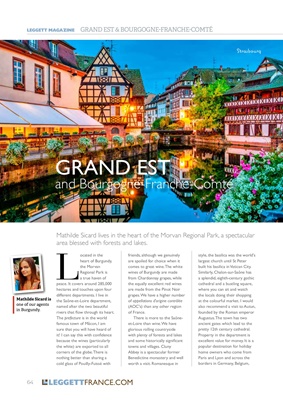 L
ocated in the
heart of Burgundy,
the Morvan
Regional Park is
a true haven of
peace. It covers around 285,000
hectares and touches upon four
different departments. I live in
the Saône-et-Loire department,
named after the two beautiful
rivers that flow through its heart.
The prefecture is in the world
famous town of Mâcon, I am
sure that you will have heard of
it! I can say this with confidence
because the wines (particularly
the white) are exported to all
corners of the globe. There is
nothing better than sharing a
cold glass of Pouilly-Fuissé with
Mathilde Sicard lives in the heart of the Morvan Regional Park, a spectacular
area blessed with forests and lakes.
friends, although we genuinely
are spoiled for choice when it
comes to great wine. The white
wines of Burgundy are made
from Chardonnay grapes, while
the equally excellent red wines
are made from the Pinot Noir
grapes. We have a higher number
of appellations d'origine contrôlée
(AOC's) than any other region
of France.
There is more to the Saôneet-Loire
than wine. We have
glorious rolling countryside
with plenty of forests and lakes
and some historically significant
towns and villages. Cluny
Abbey is a spectacular former
Benedictine monastery and well
worth a visit. Romanesque in
style, the basilica was the world's
largest church until St Peter
built his basilica in Vatican City.
Similarly, Chalon-sur-Saône has
a splendid, eighth-century gothic
cathedral and a bustling square,
where you can sit and watch
the locals doing their shopping
at the colourful market. I would
also recommend a visit to Autun,
founded by the Roman emperor
Augustus. The town has two
ancient gates which lead to the
pretty 12th century cathedral.
Property in the department is
excellent value for money. It is a
popular destination for holiday
home owners who come from
Paris and Lyon and across the
borders in Germany, Belgium,
64
GRAND EST
and Bourgogne-Franche-Comté
LEGGETTFRANCE.COM
LEGGETT MAGAZINE GRAND EST & BOURGOGNE-FRANCHE-COMTÉ
Mathilde Sicard is
one of our agents
in Burgundy.
Strasbourg