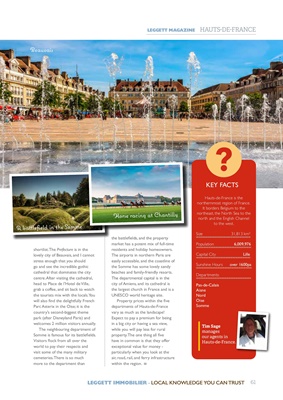 shortlist. The Prefecture is in the
lovely city of Beauvais, and I cannot
stress enough that you should
go and see the incredible gothic
cathedral that dominates the city
centre. After visiting the cathedral,
head to Place de l'Hotel de Ville,
grab a coffee, and sit back to watch
the tourists mix with the locals. You
will also find the delightfully French
Parc Asterix in the Oise; it is the
country's second-biggest theme
park (after Disneyland Paris) and
welcomes 2 million visitors annually.
The neighbouring department of
Somme is famous for its battlefields.
Visitors flock from all over the
world to pay their respects and
visit some of the many military
cemeteries. There is so much
more to the department than
A battlefield in the Somme
KEY FACTS
Hauts-de-France is the
northernmost region of France.
It borders Belgium to the
northeast, the North Sea to the
north and the English Channel
to the west.
Size 31,813 km²
Population 6,009,976
Capital City Lille
Sunshine Hours over 1600pa
Departments:
Pas-de-Calais
Aisne
Nord
Oise
Somme
Tim Sage
manages
our agents in
Hauts-de-France.
? 61
LEGGETT IMMOBILIER - LOCAL KNOWLEDGE YOU CAN TRUST
LEGGETT MAGAZINE HAUTS-DE-FRANCE
the battlefields, and the property
market has a potent mix of full-time
residents and holiday homeowners.
The airports in northern Paris are
easily accessible, and the coastline of
the Somme has some lovely sandy
beaches and family-friendly resorts.
The departmental capital is in the
city of Amiens, and its cathedral is
the largest church in France and is a
UNESCO world heritage site.
Property prices within the five
departments of Hauts-de-France
vary as much as the landscape!
Expect to pay a premium for being
in a big city or having a sea view,
while you will pay less for rural
property. The one thing all five
have in common is that they offer
exceptional value for money -
particularly when you look at the
air, road, rail, and ferry infrastructure
within the region.
Horse racing at Chantilly
Beauvais