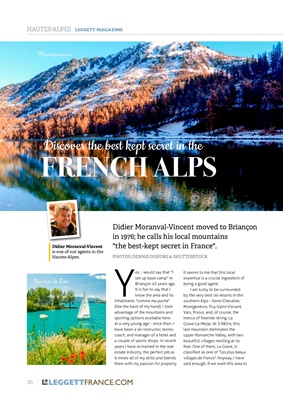 36 LEGGETTFRANCE.COM
Y
es, I would say that "I
set up base camp" in
Briançon 45 years ago.
It is fair to say that I
know the area and its
inhabitants "comme ma poche"
(like the back of my hand). I took
advantage of the mountains and
sporting options available here
at a very young age - since then, I
have been a ski instructor, tennis
coach, and manager of a hotel and
a couple of sports shops. In recent
years I have re-trained in the real
estate industry, the perfect job as
it mixes all of my skills and blends
them with my passion for property.
It seems to me that this local
expertise is a crucial ingredient of
being a good agent.
I am lucky to be surrounded
by the very best ski resorts in the
southern Alps - Serre-Chevalier,
Montgenèvre, Puy-Saint-Vincent,
Vars, Risoul, and, of course, the
mecca of freeride skiing, La
Grave-La-Meije. At 3,983m, this
last mountain dominates the
upper Romanche Valley, with two
beautiful villages nestling at its
feet. One of them, La Grave, is
classified as one of "Les plus beaux
villages de France". Anyway, I have
said enough, if we want this area to
FRENCH ALPS
Didier Moranval-Vincent moved to Briançon
in 1976; he calls his local mountains
"the best-kept secret in France".
Montgenèvre
Didier Moranval-Vincent
is one of our agents in the
Hautes-Alpes. PHOTOS: DENNIS DISFORS & SHUTTERSTOCK
Discover the best kept secret in the
HAUTES-ALPES LEGGETT MAGAZINE
Savines le Lac