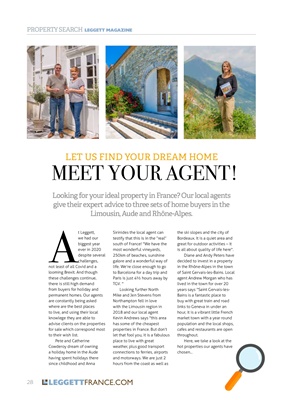 Looking for your ideal property in France? Our local agents
give their expert advice to three sets of home buyers in the
Limousin, Aude and Rhône-Alpes.
At Leggett,
we had our
biggest year
ever in 2020
despite several
challenges,
not least of all Covid and a
looming Brexit. And though
these challenges continue,
there is still high demand
from buyers for holiday and
permanent homes. Our agents
are constantly being asked
where are the best places
to live, and using their local
knowlege they are able to
advise clients on the properties
for sale which correspond most
to their wish list.
Pete and Catherine
Cowderoy dream of owning
a holiday home in the Aude
having spent holidays there
since childhood and Anna
Sirinides the local agent can
testify that this is in the "real"
south of France! "We have the
most wonderful vineyards,
250km of beaches, sunshine
galore and a wonderful way of
life. We're close enough to go
to Barcelona for a day trip and
Paris is just 4½ hours away by
TGV. "
Looking further North
Mike and Jen Stevens from
Northampton fell in love
with the Limousin region in
2018 and our local agent
Kevin Andrews says "this area
has some of the cheapest
properties in France. But don't
let that fool you, it is a fabulous
place to live with great
weather, plus good transport
connections to ferries, airports
and motorways. We are just 2
hours from the coast as well as
the ski slopes and the city of
Bordeaux. It is a quiet area and
great for outdoor activities - it
is all about quality of life here".
Diane and Andy Peters have
decided to invest in a property
in the Rhône-Alpes in the town
of Saint Gervais-les-Bains. Local
agent Andrew Morgan who has
lived in the town for over 20
years says "Saint Gervais-lesBains is a fantastic
place to
buy with great train and road
links to Geneva in under an
hour, it is a vibrant little French
market town with a year round
population and the local shops,
cafes and restaurants are open
throughout.
Here, we take a look at the
hot properties our agents have
chosen...
LET US FIND YOUR DREAM HOME
MEET YOUR AGENT!
PROPERTY SEARCH LEGGETT MAGAZINE
28 LEGGETTFRANCE.COM