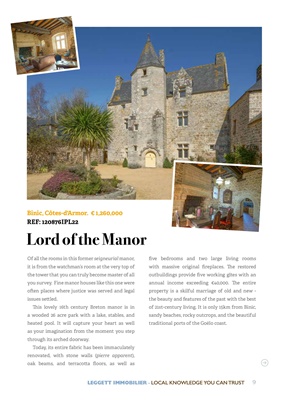 9
Lord of the Manor
Of all the rooms in this former seigneurial manor,
it is from the watchman's room at the very top of
the tower that you can truly become master of all
you survey. Fine manor houses like this one were
often places where justice was served and legal
issues settled.
This lovely 16th century Breton manor is in
a wooded 26 acre park with a lake, stables, and
heated pool. It will capture your heart as well
as your imagination from the moment you step
through its arched doorway.
Today, its entire fabric has been immaculately
renovated, with stone walls (pierre apparent),
oak beams, and terracotta floors, as well as
five bedrooms and two large living rooms
with massive original fireplaces. The restored
outbuildings provide five working gîtes with an
annual income exceeding €40,000. The entire
property is a skilful marriage of old and new -
the beauty and features of the past with the best
of 21st-century living. It is only 15km from Binic,
sandy beaches, rocky outcrops, and the beautiful
traditional ports of the Goëlo coast.
Binic, Côtes-d'Armor. € 1,260,000
REF: 120876IPL22
LEGGETT IMMOBILIER - LOCAL KNOWLEDGE YOU CAN TRUST