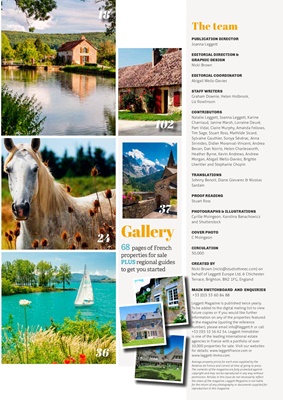 Gallery
68 pages of French
properties for sale
PLUS regional guides
to get you started
24
The team
PUBLICATION DIRECTOR
Joanna Leggett
EDITORIAL DIRECTION &
GRAPHIC DESIGN
Nicki Brown
EDITORIAL COORDINATOR
Abigail Wells-Davies
STAFF WRITERS
Graham Downie, Helen Holbrook,
Liz Rowlinson
CONTRIBUTORS
Natalie Leggett, Joanna Leggett, Karine
Charriaud, Janine Marsh, Lorraine Deuré,
Pam Vidal, Claire Murphy, Amanda Fellows,
Tim Sage, Stuart Ross, Mathilde Sicard,
Sylvaine Gauthier, Sonya Sévérac, Anna
Sirinides, Didier Moranval-Vincent, Andrea
Bevan, Dan Norris, Helen Charlesworth,
Heather Byrne, Kevin Andrews, Andrew
Morgan, Abigail Wells-Davies, Brigitte
Lheritier and Stephanie Chopin
TRANSLATIONS
Johnny Benoit, Diane Glevarec & Nicolas
Sardain
PROOF READING
Stuart Ross
PHOTOGRAPHS & ILLUSTRATIONS
Cyrille Moingeon, Karolina Banachowicz
and Shutterstock
COVER PHOTO
C Moingeon
CIRCULATION
50,000
CREATED BY
Nicki Brown (nicki@studiothreec.com) on
behalf of Leggett Europe Ltd, 6 Chichester
Terrace, Brighton, BN2 1FG, England
MAIN SWITCHBOARD AND ENQUIRIES
+33 (0)5 53 60 84 88
Leggett Magazine is published twice yearly.
To be added to the digital mailing list to view
future copies or if you would like further
information on any of the properties featured
in the magazine (quoting the reference
number), please email info@leggett.fr or call
+33 (0)5 53 56 62 54. Leggett Immobilier
is one of the leading international estate
agencies in France with a portfolio of over
10,000 properties for sale. Visit our websites
for details: www.leggettfrance.com or
Average property prices for each area supplied by the
Notaires de France and correct at time of going to press.
The contents of the magazine are fully protected against
copyright and may not be reproduced in any way without
permission. Articles in this issue do not necessarily reflect
the views of the magazine. Leggett Magazine is not liable
for the return of any photography or documents supplied for
reproduction in this magazine.
102
18
36
24
37