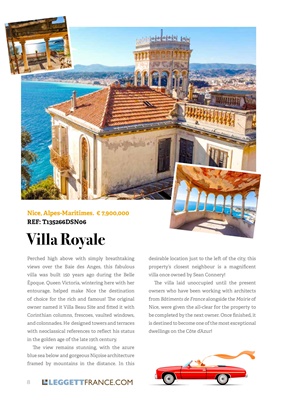 LEGGETTFRANCE.COM
8
Villa Royale
Perched high above with simply breathtaking
views over the Baie des Anges, this fabulous
villa was built 150 years ago during the Belle
Époque. Queen Victoria, wintering here with her
entourage, helped make Nice the destination
of choice for the rich and famous! The original
owner named it Villa Beau Site and fitted it with
Corinthian columns, frescoes, vaulted windows,
and colonnades. He designed towers and terraces
with neoclassical references to reflect his status
in the golden age of the late 19th century.
The view remains stunning, with the azure
blue sea below and gorgeous Niçoise architecture
framed by mountains in the distance. In this
desirable location just to the left of the city, this
property's closest neighbour is a magnificent
villa once owned by Sean Connery!
The villa laid unoccupied until the present
owners who have been working with architects
from Bâtiments de France alongside the Mairie of
Nice, were given the all-clear for the property to
be completed by the next owner. Once finished, it
is destined to become one of the most exceptional
dwellings on the Côte d'Azur!
Nice, Alpes-Maritimes. € 7,900,000
REF: T135266DSN06