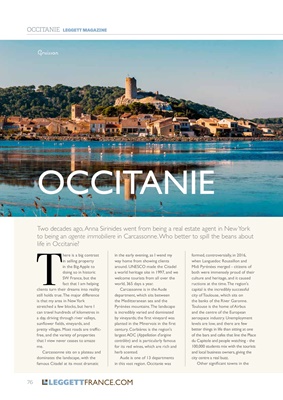 76 LEGGETTFRANCE.COM
OCCITANIE
T
here is a big contrast
in selling property
in the Big Apple to
doing so in historic
SW France, but the
fact that I am helping
clients turn their dreams into reality
still holds true. The major difference
is that my area in New York
stretched a few blocks, but here I
can travel hundreds of kilometres in
a day, driving through river valleys,
sunflower fields, vineyards, and
pretty villages. Most roads are trafficfree,
and the variety of properties
that I view never ceases to amaze
me.
Carcassonne sits on a plateau and
dominates the landscape, with the
famous Citadel at its most dramatic
Two decades ago, Anna Sirinides went from being a real estate agent in New York
to being an agente immobiliere in Carcassonne. Who better to spill the beans about
life in Occitanie?
in the early evening, as I wend my
way home from showing clients
around. UNESCO made the Citadel
a world heritage site in 1997, and we
welcome tourists from all over the
world, 365 days a year.
Carcassonne is in the Aude
department, which sits between
the Meditteranean sea and the
Pyrénées mountains. The landscape
is incredibly varied and dominated
by vineyards; the first vineyard was
planted in the Minervois in the first
century. Corbières is the region's
largest AOC (Appellation d'origine
contrôlée) and is particularly famous
for its red wines, which are rich and
herb scented.
Aude is one of 13 departments
in this vast region. Occitanie was
formed, controversially, in 2016,
when Languedoc Roussillon and
Midi Pyrénées merged - citizens of
both were immensely proud of their
culture and heritage, and it caused
ructions at the time. The region's
capital is the incredibly successful
city of Toulouse, which sits on
the banks of the River Garonne.
Toulouse is the home of Airbus
and the centre of the European
aerospace industry. Unemployment
levels are low, and there are few
better things in life than sitting at one
of the bars and cafes that line the Place
du Capitole and people watching - the
100,000 students mix with the tourists
and local business owners, giving the
city centre a real buzz.
Other significant towns in the
Gruissan
OCCITANIE LEGGETT MAGAZINE