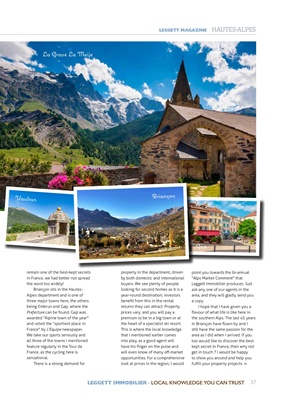 37
remain one of the best-kept secrets
in France, we had better not spread
the word too widely!
Briançon sits in the HautesAlpes department and is one of
three major towns here, the others
being Embrun and Gap, where the
Prefecture can be found. Gap was
awarded "Alpine town of the year"
and voted the "sportiest place in
France" by L'Equipe newspaper.
We take our sports seriously and
all three of the towns I mentioned
feature regularly in the Tour de
France, as the cycling here is
sensational.
There is a strong demand for
LEGGETT MAGAZINE HAUTES-ALPES
property in the department, driven
by both domestic and international
buyers. We see plenty of people
looking for second homes as it is a
year-round destination; investors
benefit from this in the rental
returns they can attract. Property
prices vary, and you will pay a
premium to be in a big town or at
the heart of a specialist ski resort.
This is where the local knowledge
that I mentioned earlier comes
into play, as a good agent will
have his finger on the pulse and
will even know of many off-market
opportunities. For a comprehensive
look at prices in the region, I would
point you towards the bi-annual
"Alps Market Comment" that
Leggett Immobilier produces. Just
ask any one of our agents in the
area, and they will gladly send you
a copy.
I hope that I have given you a
flavour of what life is like here in
the southern Alps. The last 45 years
in Briançon have flown by and I
still have the same passion for the
area as I did when I arrived. If you
too would like to discover the best
kept secret in France, then why not
get in touch ? I would be happy
to show you around and help you
fulfill your property projects.
La Grave La Meije
Vauban
Briançon
Gap
LEGGETT IMMOBILIER - LOCAL KNOWLEDGE YOU CAN TRUST