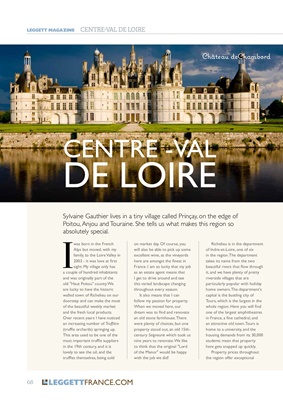 68
CENTRE -VAL
DE LOIRE
Richelieu is in the department
of Indre-et-Loire, one of six
in the region. The department
takes its name from the two
beautiful rivers that flow through
it, and we have plenty of pretty
riverside villages that are
particularly popular with holiday
home owners. The department's
capital is the bustling city of
Tours, which is the largest in the
whole region. Here you will find
one of the largest amphitheatres
in France, a fine cathedral, and
an attractive old town. Tours is
home to a university, and the
housing demands from its 30,000
students mean that property
here gets snapped up quickly.
Property prices throughout
the region offer exceptional
I
was born in the French
Alps but moved, with my
family, to the Loire Valley in
2003 - it was love at first
sight. My village only has
a couple of hundred inhabitants
and was originally part of the
old "Haut Poitou" county. We
are lucky to have the historic
walled town of Richelieu on our
doorstep and can make the most
of the beautiful weekly market
and the fresh local products.
Over recent years I have noticed
an increasing number of Truffière
(truffle orchards) springing up.
This area used to be one of the
most important truffle suppliers
in the 19th century, and it is
lovely to see the oil, and the
truffles themselves, being sold
Sylvaine Gauthier lives in a tiny village called Prinçay, on the edge of
Poitou, Anjou and Touraine. She tells us what makes this region so
absolutely special.
on market day. Of course, you
will also be able to pick up some
excellent wine, as the vineyards
here are amongst the finest in
France. I am so lucky that my job
as an estate agent means that
I get to drive around and see
this varied landscape changing
throughout every season.
It also means that I can
follow my passion for property.
When we moved here, our
dream was to find and renovate
an old stone farmhouse. There
were plenty of choices, but one
property stood out, an old 15thcentury
Seigneurie which took us
nine years to renovate. We like
to think that the original "Lord
of the Manor" would be happy
with the job we did!
LEGGETTFRANCE.COM
LEGGETT MAGAZINE CENTRE-VAL DE LOIRE
Chinon
Château deChambord