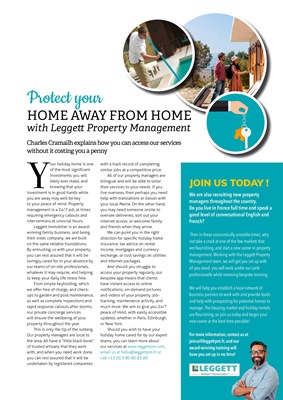 35
Y
our holiday home is one
of the most significant
investments you will
likely ever make, and
knowing that your
investment is in good hands while
you are away may well be key
to your peace of mind. Property
management is a 24/7 job, at times
requiring emergency callouts and
interventions at unsocial hours.
Leggett Immobilier is an awardwinning family
business, and being
their sister company, we are built
on the same reliable foundations.
By entrusting us with your property,
you can rest assured that it will be
lovingly cared for in your absence by
our teams of on-site professionals,
whatever it may require, and helping
to keep your daily life stress free.
From simple keyholding, which
we offer free of charge, and checkups to garden
and pool maintenance,
as well as complete inspections and
rapid response callouts after storms,
our private concierge services
will ensure the wellbeing of your
property throughout the year.
This is only the tip of the iceberg.
Our property managers are local to
the area. All have a "little black book"
of trusted artisans that they work
with, and when you need work done,
you can rest assured that it will be
undertaken by registered companies
with a track record of completing
similar jobs at a competitive price.
All of our property managers are
bilingual and will be able to tailor
their services to your needs. If you
live overseas, then perhaps you need
help with translations or liaison with
your local Mairie. On the other hand,
you may need someone onsite to
oversee deliveries, sort out your
internet access, or welcome family
and friends when they arrive.
We can point you in the right
direction for specific holiday home
insurance, tax advice on rental
income, mortgages and currency
exchange, or cost savings on utilities
and internet packages.
And should you struggle to
access your property regularly, our
bespoke app means that clients
have instant access to online
notifications, on-demand pictures
and videos of your property, jobtracking,
maintenance activity, and
much more. We aim to give you 24/7
peace of mind, with easily accessible
updates, whether in Paris, Edinburgh,
or New York.
Should you wish to have your
holiday home cared for by our expert
teams, you can learn more about
our services at hello@leggettpm.fre="Visit www.leggettpm.com">www.leggettpm.com,
email us at hello@leggettpm.fr or
call +33 (0) 9 80 80 83 89.
Charles Cramailh explains how you can access our services
without it costing you a penny
JOIN US TODAY !
We are also recruiting new property
managers throughout the country.
Do you live in France full time and speak a
good level of conversational English and
French?
Then in these economically unstable times, why
not take a crack at one of the few markets that
are flourishing, and start a new career in property
management. Working with the Leggett Property
Management team, we will get you set up with
all you need: you will work under our carte
professionelle while receiving bespoke training.
We will help you establish a local network of
business partners to work with and provide leads
and help with prospecting for potential homes to
manage. The housing market and holiday rentals
are flourishing, so join us today and begin your
joinus@leggettpm.frbest time possible!
For more information, contact us at
joinus@leggettpm.fr, and our
award-winning training will
have you set up in no time!
PROPERTY MANAGEMENT
Trust our local experts with the management and rental of your French property�
Protect your
HOME AWAY FROM HOME
with Leggett Property Management