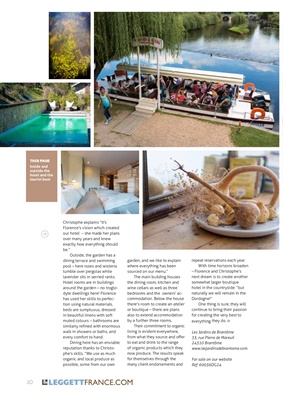 10 LEGGETTFRANCE.COM
THIS PAGE
Inside and
outside the
hotel and the
tourist boat
Christophe explains "it's
Florence's vision which created
our hotel - she made her plans
over many years and knew
exactly how everything should
be."
Outside, the garden has a
dining terrace and swimming
pool - here roses and wisteria
tumble over pergolas while
lavender sits in serried ranks.
Hotel rooms are in buildings
around the garden - no troglodyte dwellings
here! Florence
has used her skills to perfection using natural
materials,
beds are sumptuous, dressed
in beautiful linens with soft
muted colours - bathrooms are
similarly refined with enormous
walk in showers or baths, and
every comfort to hand.
Dining here has an enviable
reputation thanks to Christophe's skills. "We
use as much
organic and local produce as
possible, some from our own
garden, and we like to explain
where everything has been
sourced on our menu."
The main building houses
the dining room, kitchen and
wine cellars as well as three
bedrooms and the owners' accommodation.
Below the house
there's room to create an atelier
or boutique - there are plans
also to extend accommodation
by a further three rooms.
Their commitment to organic
living is evident everywhere,
from what they source and offer
to eat and drink to the range
of organic products which they
now produce. The results speak
for themselves through the
many client endorsements and
repeat reservations each year.
With time horizons broaden
- Florence and Christophe's
next dream is to create another
somewhat larger boutique
hotel in the countryside: "but
naturally we will remain in the
Dordogne!"
One thing is sure, they will
continue to bring their passion
for creating the very best to
everything they do.
Les Jardins de Brantôme
33, rue Pierre de Mareuil
24310 Brantôme
For sale on our website
Ref: 60036DG24