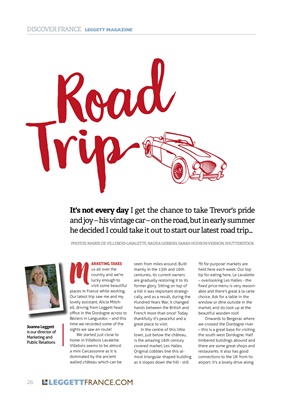 M
ARKETING TAKES
us all over the
country and we're
lucky enough to
visit some beautiful
places in France while working.
Our latest trip saw me and my
lovely assistant, Alicia Mitchell, driving from
Leggett head
office in the Dordogne across to
Béziers in Languedoc - and this
time we recorded some of the
sights we saw en route!
We started just close to
home in Villebois Lavalette.
Villebois seems to be almost
a mini Carcassonne as it is
dominated by the ancient
walled château which can be
seen from miles around. Built
mainly in the 13th and 16th
centuries, its current owners
are gradually restoring it to its
former glory. Sitting on top of
a hill it was important strategically,
and as a result, during the
Hundred Years War, it changed
hands between the British and
French more than once! Today
thankfully it's peaceful and a
great place to visit.
In the centre of this little
town, just below the château,
is the amazing 16th century
covered market, Les Halles.
Original cobbles line this almost triangular shaped building
as it slopes down the hill - still
'fit for purpose' markets are
held here each week. Our top
tip for eating here, Le Lavalette
- overlooking Les Halles - the
fixed price menu is very reasonable and there's
great à la carte
choice. Ask for a table in the
window or dine outside in the
market, and do look up at the
beautiful wooden roof.
Onwards to Bergerac where
we crossed the Dordogne river
- this is a great base for visiting
the south west Dordogne. Half
timbered buildings abound and
there are some great shops and
restaurants. It also has good
connections to the UK from its
airport. It's a lovely drive along
It's not every day I get the chance to take Trevor's pride
and joy - his vintage car - on the road, but in early summer
he decided I could take it out to start our latest road trip...
PHOTOS: MAIRIE DE VILLEBOIS-LAVALETTE, NADIIA GERBISH, SARAH HUDSON-VERNON, SHUTTERSTOCK
Road
26 LEGGETTFRANCE.COM
Joanna Leggett
is our director of
Marketing and
Public Relations
DISCOVER FRANCE LEGGETT MAGAZINE