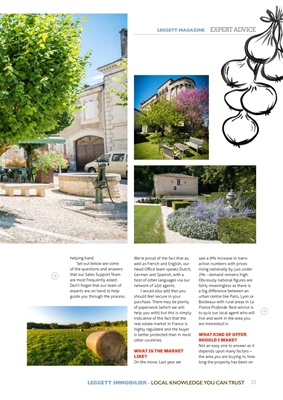 13
helping hand.
Set out below are some
of the questions and answers
that our Sales Support Team
are most frequently asked.
Don't forget that our team of
experts are on hand to help
guide you through the process.
We're proud of the fact that as,
well as French and English, our
Head Office team speaks Dutch,
German and Spanish, with a
host of other languages via our
network of 450 agents.
I would also add that you
should feel secure in your
purchase. There may be plenty
of paperwork (which we will
help you with) but this is simply
indicative of the fact that the
real estate market in France is
highly regulated and the buyer
is better protected than in most
other countries.
WHAT IS THE MARKET
LIKE?
On the move. Last year we
saw a 9% increase in transaction numbers
with prices
rising nationally by just under
2% - demand remains high.
Obviously national figures are
fairly meaningless as there is
a big difference between an
urban centre like Paris, Lyon or
Bordeaux with rural areas in La
France Profonde. Best advice is
to quiz our local agent who will
live and work in the area you
are interested in.
WHAT KIND OF OFFER
SHOULD I MAKE?
Not an easy one to answer as it
depends upon many factors -
the area you are buying in, how
long the property has been on
LEGGETT IMMOBILIER - LOCAL KNOWLEDGE YOU CAN TRUST
LEGGETT MAGAZINE EXPERT ADVICE