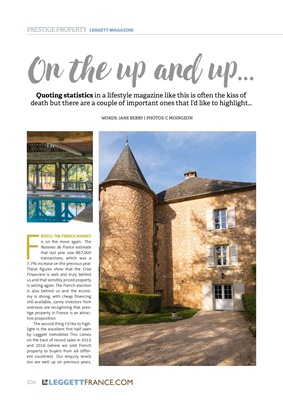 F
IRSTLY, THE FRENCH MARKET
is on the move again.  The
Notaires de France estimate
that last year saw 867,000
transactions, which was a
7.7% increase on the previous year.
These figures show that the Crise
Financiere is well and truly behind
us and that sensibly priced property
is selling again. The French election
is also behind us and the economy is
strong, with cheap financing
still available, canny investors from
overseas are recognising that prestige
property in France is an attractive
proposition.
The second thing I'd like to highlight is
the excellent first half seen
by Leggett Immobilier. This comes
on the back of record sales in 2015
and 2016 (where we sold French
property to buyers from 49 different countries).
Our enquiry levels
too are well up on previous years,
On the up and up...
Quoting statistics in a lifestyle magazine like this is often the kiss of
death but there are a couple of important ones that I'd like to highlight...
PRESTIGE PROPERTY LEGGETT MAGAZINE
104 LEGGETTFRANCE.COM
WORDS: JANE BERRY I PHOTOS: C MOINGEON