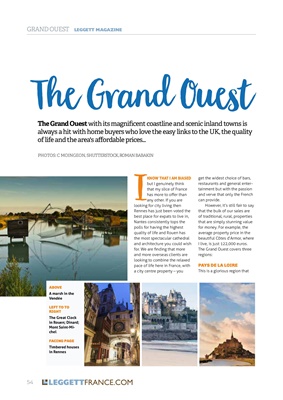 GRAND OUEST LEGGETT MAGAZINE
54
I
KNOW THAT I AM BIASED
but I genuinely think
that my slice of France
has more to offer than
any other. If you are
looking for city living then
Rennes has just been voted the
best place for expats to live in,
Nantes consistently tops the
polls for having the highest
quality of life and Rouen has
the most spectacular cathedral
and architecture you could wish
for.  We are finding that more
and more overseas clients are
looking to combine the relaxed
pace of life here in France, with
a city centre property - you
The Grand Ouest with its magnificent coastline and scenic inland towns is
always a hit with home buyers who love the easy links to the UK, the quality
of life and the area's affordable prices...
ABOVE
A marsh in the
Vendée
LEFT TO TO
RIGHT
The Great Clock
in Rouen; Dinard;
Mont Saint-Michel
FACING PAGE
Timbered houses
in Rennes
PHOTOS: C MOINGEON, SHUTTERSTOCK, ROMAN BABAKIN
LEGGETTFRANCE.COM
The Grand Ouest
get the widest choice of bars,
restaurants and general entertainment but with the passion
and verve that only the French
can provide.
However, it's still fair to say
that the bulk of our sales are
of traditional, rural, properties
that are simply stunning value
for money.  For example, the
average property price in the
beautiful CÔtes d'Armor, where
I live, is just 122,000 euros.
The Grand Ouest covers three
regions:
PAYS DE LA LOIRE
This is a glorious region that