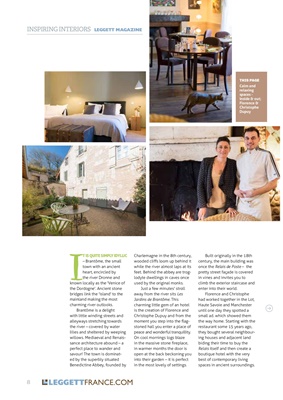 8 LEGGETTFRANCE.COM
INSPIRING INTERIORS LEGGETT MAGAZINE
THIS PAGE
Calm and
relaxing
spaces -
inside & out;
Florence &
Christophe
Dupuy
I
T IS QUITE SIMPLY IDYLLIC
- Brantôme, the small
town with an ancient
heart, encircled by
the river Dronne and
known locally as the 'Venice of
the Dordogne'. Ancient stone
bridges link the 'island' to the
mainland making the most
charming river outlooks.
Brantôme is a delight
with little winding streets and
alleyways stretching towards
the river - covered by water
lilies and sheltered by weeping
willows. Mediaeval and Renaissance
architecture abound - a
perfect place to wander and
savour! The town is dominated by
the superbly situated
Benedictine Abbey, founded by
Charlemagne in the 8th century,
wooded cliffs loom up behind it
while the river almost laps at its
feet. Behind the abbey are troglodyte dwellings
in caves once
used by the original monks.
Just a few minutes' stroll
away from the river sits Les
Jardins de Brantôme. This
charming little gem of an hotel
is the creation of Florence and
Christophe Dupuy and from the
moment you step into the flagstoned hall you
enter a place of
peace and wonderful tranquillity.
On cool mornings logs blaze
in the massive stone fireplace,
in warmer months the door is
open at the back beckoning you
into their garden - it is perfect
in the most lovely of settings.
Built originally in the 18th
century, the main building was
once the Relais de Poste - the
pretty street façade is covered
in vines and invites you to
climb the exterior staircase and
enter into their world.
Florence and Christophe
had worked together in the Lot,
Haute Savoie and Manchester
until one day they spotted a
small ad. which showed them
the way home. Starting with the
restaurant some 15 years ago,
they bought several neighbouring houses and adjacent
land
biding their time to buy the
Relais itself and then create a
boutique hotel with the very
best of contemporary living
spaces in ancient surroundings.