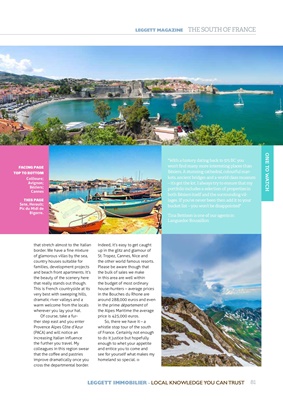 81
LEGGETT IMMOBILIER - LOCAL KNOWLEDGE YOU CAN TRUST
LEGGETT MAGAZINE THE SOUTH OF FRANCE
that stretch almost to the Italian
border. We have a fine mixture
of glamorous villas by the sea,
country houses suitable for
families, development projects
and beach front apartments. It's
the beauty of the scenery here
that really stands out though.
This is French countryside at its
very best with sweeping hills,
dramatic river valleys and a
warm welcome from the locals
wherever you lay your hat.
Of course, take a further step east and you
enter
Provence Alpes CÔte d'Azur
(PACA) and will notice an
increasing Italian influence
the further you travel. My
colleagues in this region swear
that the coffee and pastries
improve dramatically once you
cross the departmental border.
Indeed, it's easy to get caught
up in the glitz and glamour of
St. Tropez, Cannes, Nice and
the other world famous resorts.
Please be aware though that
the bulk of sales we make
in this area are well within
the budget of most ordinary
house-hunters - average prices
in the Bouches du Rhone are
around 288,000 euros and even
in the prime département of
the Alpes Maritime the average
price is 425,000 euros.
So, there we have it - a
whistle stop tour of the south
of France. Certainly not enough
to do it justice but hopefully
enough to whet your appetite
and entice you to come and
see for yourself what makes my
homeland so special.
"With a history dating back to 575 BC you
won't find many more interesting places than
Bèziers. A stunning cathedral, colourful markets,
ancient bridges and a world class museum
- it's got the lot. I always try to ensure that my
portfolio includes a selection of properties in
both Bèziers itself and the surrounding villages.
If you've never been then add it to your
bucket list - you won't be disappointed"
Tina Bettison is one of our agents in
Languedoc Roussillon
ONE TO WATCH
FACING PAGE
TOP TO BOTTOM
Collioure;
Avignon;
Bèziers;
Cannes
THIS PAGE
Sete, Herault;
Pic du Midi de
Bigorre.