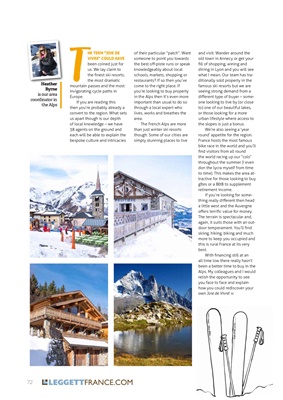 72 T
HE TERM "JOIE DE
VIVRE" COULD HAVE
been coined just for
us.  We lay claim to
the finest ski resorts,
the most dramatic
mountain passes and the most
invigorating cycle paths in
Europe.
If you are reading this
then you're probably already a
convert to the region.  What sets
us apart though is our depth
of local knowledge - we have
38 agents on the ground and
each will be able to explain the
bespoke culture and intricacies
of their particular "patch". Want
someone to point you towards
the best off-piste runs or speak
knowledgeably about local
schools, markets, shopping or
restaurants?  If so then you've
come to the right place.  If
you're looking to buy property
in the Alps then it's even more
important than usual to do so
through a local expert who
lives, works and breathes the
area.
The French Alps are more
than just winter ski resorts
though.  Some of our cities are
simply stunning places to live
and visit. Wander around the
old town in Annecy or get your
fill of shopping, wining and
dining in Lyon and you will see
what I mean.  Our team has traditionally sold property
in the
famous ski resorts but we are
seeing strong demand from a
different type of buyer - someone looking to live
by (or close
to) one of our beautiful lakes,
or those looking for a more
urban lifestyle where access to
the slopes is just a bonus.
We're also seeing a 'year
round' appetite for the region.
France hosts the most famous
bike race in the world and you'll
find visitors from all round
the world racing up our "cols"
throughout the summer (I even
don the lycra myself from time
to time).  This makes the area attractive
for those looking to buy
gîtes or a B&B to supplement
retirement income.
If you're looking for something really
different then head
a little west and the Auvergne
offers terrific value for money.
The terrain is spectacular and,
again, it suits those with an outdoor temperament.
You'll find
skiing, hiking, biking and much
more to keep you occupied and
this is rural France at its very
best.
With financing still at an
all time low there really hasn't
been a better time to buy in the
Alps. My colleagues and I would
relish the opportunity to see
you face to face and explain
how you could rediscover your
own Joie de Vivre!
Heather
Byrne
is our area
coordinator in
the Alps
LEGGETTFRANCE.COM