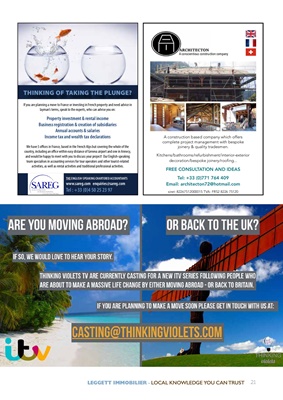 21
If you are planning a move to France or investing in French property and need advice in
layman's terms, speak to the experts, who can advise you on:
Property investment & rental income
Business registration & creation of subsidiaries
Annual accounts & salaries
Income tax and wealth tax declarations
We have 5 offices in France, based in the French Alps but covering the whole of the
country, including an office within easy distance of Geneva airport and one in Annecy,
and would be happy to meet with you to discuss your project! Our English-speaking
team specialises in accounting services for tour operators and other tourist-related
activities, as well as rental activities and traditional professional activities.
THINKING OF TAKING THE PLUNGE?
THE ENGLISH-SPEAKING CHARTERED ACCOUNTANTS
enquiries@sareg.comrget="_blank" title="Visit www.sareg.com">www.sareg.com enquiries@sareg.com
Tel : +33 (0)4 50 25 23 97
SAREGSOCIÉTÉ D'ASSISTANCE
DE RÉVISION D'EXPERTISE
ET DE GESTION COMPTABLE
A construction based company which offers
complete project management with bespoke
joinery & quality tradesmen.
Kitchens/bathrooms/refurbishment/interior-exterior
decoration/bespoke joinery/roofing..architecton72@hotmail.com AND IDEAS
Tel: +33 (0)771 764 409
Email: architecton72@hotmail.com
siret: 82267512000015 TVA: FR52 8226 75120
A conscientious construction company
LEGGETT IMMOBILIER - LOCAL KNOWLEDGE YOU CAN TRUST