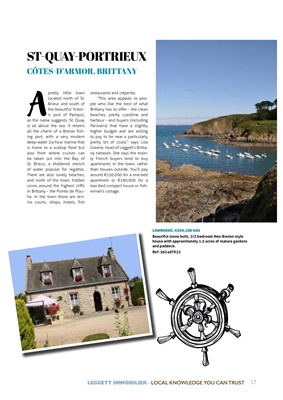 1717
A
pretty little town
located north of St.
Brieuc and south of
the beautiful historic port
of Paimpol,
as the name suggests, St. Quay
is all about the sea. It retains
all the charm of a Breton fishing port,
with a very modern
deep-water 24-hour marina that
is home to a scallop fleet but
also from where cruises can
be taken out into the Bay of
St. Brieuc, a sheltered stretch
of water popular for regattas.
There are also lovely beaches,
and north of the town, hidden
coves around the highest cliffs
in Brittany - the Pointe de Plouha. In
the town there are tennis courts,
shops, hotels, fish
ST-QUAY-PORTRIEUX
CÔTES-D'ARMOR, BRITTANY
restaurants and créperies.
"This area appeals to people who
like the best of what
Brittany has to offer - the clean
beaches, pretty coastline and
harbour - and buyers (including
Parisians) that have a slightly
higher budget and are willing
to pay to be near a particularly
pretty bit of coast," says Lisa
Greene, head of Leggett's Brittany network.
She says the mainly French
buyers tend to buy
apartments in the town, rather
than houses outside. You'll pay
around €150,000 for a one-bed
apartment or €190,000 for a
two-bed compact house or fisherman's cottage.
LANRODEC, €246,100 HAI
Beautiful stone built, 2/3 bedroom Neo-Breton style
house with approximately 1.5 acres of mature gardens
and paddock.
Ref: 56249TK22
LEGGETT IMMOBILIER - LOCAL KNOWLEDGE YOU CAN TRUST