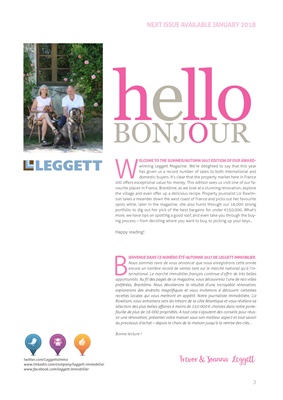 LEGGETTPRESTIGE
3
W
ELCOME TO THE SUMMER/AUTUMN 2017 EDITION OF OUR AWARDwinning Leggett
Magazine.  We're delighted to say that this year
has given us a record number of sales to both international and
domestic buyers.  It's clear that the property market here in France
still offers exceptional value for money. This edition sees us visit one of our favourite
places in France, Brantôme, as we look at a stunning renovation, explore
the village and even offer up a delicious recipe. Property journalist Liz Rowlinson takes
a meander down the west coast of France and picks out her favourite
spots while, later in the magazine, she also hunts through our 16,000 strong
portfolio to dig out her pick of the best bargains for under €150,000. What's
more, we have tips on spotting a good roof, and even take you through the buying process
- from deciding where you want to buy, to picking up your keys...
Happy reading!
B
IENVENUE DANS CE NUMÉRO ÉTÉ-AUTOMNE 2017 DE LEGGETT IMMOBILIER.
Nous sommes ravis de vous annoncer que nous enregistrons cette année
encore un nombre record de ventes tant sur le marché national qu'à l'international. Le
marché immobilier français continue d'offrir de très belles
opportunités. Au fil des pages de ce magazine, vous découvrirez l'une de nos villes
préférées, Brantôme. Nous dévoilerons le résultat d'une incroyable rénovation,
explorerons des endroits magnifiques et vous inviterons à découvrir certaines
recettes locales qui vous mettront en appétit. Notre journaliste immobilière, Liz
Rowlison, vous entrainera vers les trésors de la côte Atlantique et vous révèlera sa
sélection des plus belles affaires à moins de 150 000 € choisies dans notre portefeuille
de plus de 16 000 propriétés. A tout cela s'ajoutent des conseils pour réussir une
rénovation, présenter votre maison sous son meilleur aspect et tout savoir
du processus d'achat - depuis le choix de la maison jusqu'à la remise des clés…
Bonne lecture  !
Trevor & Joanna Leggett
NEXT ISSUE AVAILABLE JANUARY 2018
twitter.com/LeggettsImmo
www.linkedin.com/company/leggett-immobilier
www.facebook.com/leggett.immobilier helloBONJOUR