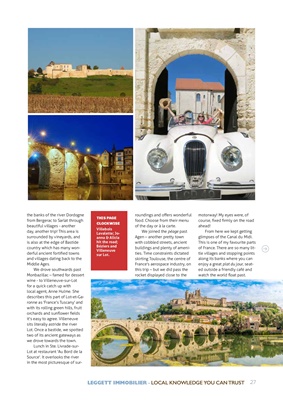 the banks of the river Dordogne
from Bergerac to Sarlat through
beautiful villages - another
day, another trip! This area is
surrounded by vineyards, and
is also at the edge of Bastide
country which has many wonderful ancient fortified
towns
and villages dating back to the
Middle Ages.
We drove southwards past
Monbazillac - famed for dessert
wine - to Villeneuve-sur-Lot
for a quick catch up with
local agent, Anne Hulme. She
describes this part of Lot-et-Garonne
as 'France's Tuscany' and
with its rolling green hills, fruit
orchards and sunflower fields
it's easy to agree. Villeneuve
sits literally astride the river
Lot. Once a bastide, we spotted
two of its ancient gateways as
we drove towards the town.
Lunch in Ste. Livrade-surLot at restaurant
'Au Bord de la
Source'. It overlooks the river
in the most picturesque of surroundings
and offers wonderful
food. Choose from their menu
of the day or à la carte.
We joined the péage past
Agen - another pretty town
with cobbled streets, ancient
buildings and plenty of amenities. Time constraints
dictated
skirting Toulouse, the centre of
France's aerospace industry, on
this trip - but we did pass the
rocket displayed close to the
motorway! My eyes were, of
course, fixed firmly on the road
ahead!
From here we kept getting
glimpses of the Canal du Midi.
This is one of my favourite parts
of France. There are so many little villages
and stopping points
along its banks where you can
enjoy a great plat du jour, seated outside a friendly café
and
watch the world float past. 27
THIS PAGE
CLOCKWISE
Villebois
Lavalette; Joanna & Alicia
hit the road;
Béziers and
Villeneuve
sur Lot.
LEGGETT IMMOBILIER - LOCAL KNOWLEDGE YOU CAN TRUST