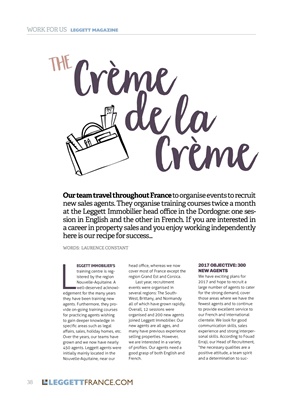 38 LEGGETTFRANCE.COM
WORK FOR US LEGGETT MAGAZINE
Our team travel throughout France to organise events to recruit
new sales agents. They organise training courses twice a month
at the Leggett Immobilier head office in the Dordogne: one session
in English and the other in French. If you are interested in
a career in property sales and you enjoy working independently
here is our recipe for success...
Crème
de la
Crème
THE
WORDS: LAURENCE CONSTANThead office, whereas we now
cover most of France except the
region Grand Est and Corsica.
Last year, recruitment
events were organised in
several regions: The SouthWest,
Brittany, and Normandy
all of which have grown rapidly.
Overall, 12 sessions were
organised and 200 new agents
joined Leggett Immobilier. Our
new agents are all ages, and
many have previous experience
selling properties. However,
we are interested in a variety
of profiles. Our agents need a
good grasp of both English and
French.
L
EGGETT IMMOBILIER'S
training centre is registered
by the region
Nouvelle-Aquitaine. A
well-deserved acknowledgement
for the many years
they have been training new
agents. Furthermore, they provide on-going
training courses
for practicing agents wishing
to gain deeper knowledge in
specific areas such as legal
affairs, sales, holiday homes, etc.
Over the years, our teams have
grown and we now have nearly
450 agents. Leggett agents were
initially mainly located in the
Nouvelle-Aquitaine, near our
2017 OBJECTIVE: 300
NEW AGENTS
We have exciting plans for
2017 and hope to recruit a
large number of agents to cater
for the strong demand, cover
those areas where we have the
fewest agents and to continue
to provide excellent service to
our French and international
clientele. We look for good
communication skills, sales
experience and strong interpersonal skills. According
to Fouad
Erraji, our Head of Recruitment,
"the necessary qualities are a
positive attitude, a team spirit
and a determination to suc-