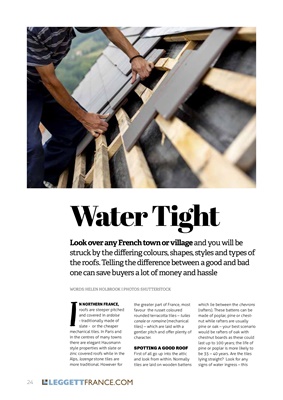 Water Tight
Look over any French town or village and you will be
struck by the differing colours, shapes, styles and types of
the roofs. Telling the difference between a good and bad
one can save buyers a lot of money and hassle
I
N NORTHERN FRANCE,
roofs are steeper pitched
and covered in ardoise
- traditionally made of
slate - or the cheaper
mechanical tiles. In Paris and
in the centres of many towns
there are elegant Hausmann
style properties with slate or
zinc covered roofs while in the
Alps, lozenge stone tiles are
more traditional. However for
the greater part of France, most
favour the russet coloured
rounded terracotta tiles - tuiles
canale or romaine (mechanical
tiles) - which are laid with a
gentler pitch and offer plenty of
character.
SPOTTING A GOOD ROOF
First of all go up into the attic
and look from within. Normally
tiles are laid on wooden battens
which lie between the chevrons
(rafters). These battens can be
made of poplar, pine or chestnut while rafters
are usually
pine or oak - your best scenario
would be rafters of oak with
chestnut boards as these could
last up to 100 years; the life of
pine or poplar is more likely to
be 35 - 40 years. Are the tiles
lying straight? Look for any
signs of water ingress - this
WORDS: HELEN HOLBROOK I PHOTOS: SHUTTERSTOCK
24 LEGGETTFRANCE.COM