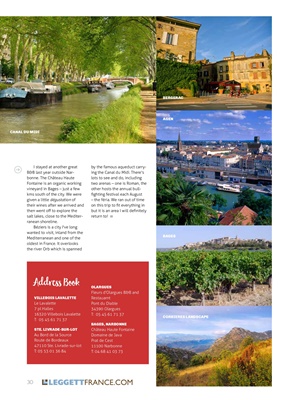 I stayed at another great
B&B last year outside Narbonne.
The Château Haute
Fontaine is an organic working
vineyard in Bages - just a few
kms south of the city. We were
given a little dégustation of
their wines after we arrived and
then went off to explore the
salt lakes, close to the Mediterranean
shoreline.
Béziers is a city I've long
wanted to visit, inland from the
Mediterranean and one of the
oldest in France. It overlooks
the river Orb which is spanned
by the famous aqueduct carrying the Canal
du Midi. There's
lots to see and do, including
two arenas - one is Roman, the
other hosts the annual bullfighting festival
each August
- the féria. We ran out of time
on this trip to fit everything in
but it is an area I will definitely
return to!
BERGERAC
AGEN
BAGES
CORBIERES LANDSCAPE
Address Book
VILLEBOIS LAVALETTE
Le Lavalette
7 pl Halles
16320 Villebois Lavalette
T: 05 45 61 71 37
STE. LIVRADE-SUR-LOT
Au Bord de la Source
Route de Bordeaux
47110 Ste. Livrade-sur-lot
T: 05 53 01 36 84
OLARGUES
Fleurs d'Olargues B&B and
Restauarnt
Pont du Diable
34390 Olargues
T: 05 45 61 71 37
BAGES, NARBONNE
Château Haute Fontaine
Domaine de Java
Prat de Cest
11100 Narbonne
T: 04 68 41 03 73
30 LEGGETTFRANCE.COM
CANAL DU MIDI