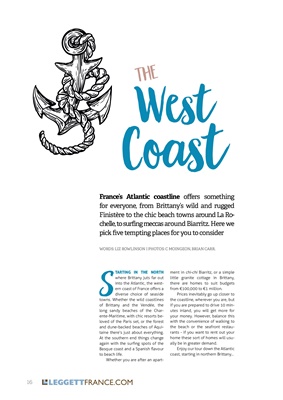 16 LEGGETTFRANCE.COM
16
WORDS: LIZ ROWLINSON I PHOTOS: C MOINGEON, BRIAN CARR.
S
TARTING IN THE NORTH
where Brittany juts far out
into the Atlantic, the western coast
of France offers a
diverse choice of seaside
towns. Whether the wild coastlines
of Brittany and the Vendée, the
long sandy beaches of the Charente-Maritime,
with chic resorts beloved
of the Paris set, or the forest
and dune-backed beaches of Aquitaine there's
just about everything.
At the southern end things change
again with the surfing spots of the
Basque coast and a Spanish flavour
to beach life.
Whether you are after an apartment in
chi-chi Biarritz, or a simple
little granite cottage in Brittany,
there are homes to suit budgets
from €100,000 to €1 million.
Prices inevitably go up closer to
the coastline, wherever you are, but
if you are prepared to drive 10 minutes inland,
you will get more for
your money. However, balance this
with the convenience of walking to
the beach or the seafront restaurants
- if you want to rent out your
home these sort of homes will usually be in greater
demand.
Enjoy our tour down the Atlantic
coast, starting in northern Brittany...
France's Atlantic coastline offers something
for everyone, from Brittany's wild and rugged
Finistère to the chic beach towns around La Rochelle,
to surfing meccas around Biarritz. Here we
pick five tempting places for you to consider
West
Coast
THE