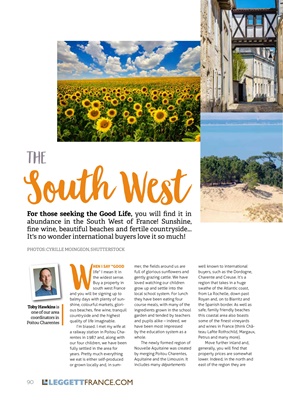 90 LEGGETTFRANCE.COM
90 LEGGETTFRANCE.COM
Albi
well known to international
buyers, such as the Dordogne,
Charente and Creuse. It's a
region that takes in a huge
swathe of the Atlantic coast,
from La Rochelle, down past
Royan and, on to Biarritz and
the Spanish border. As well as
safe, family friendly beaches
this coastal area also boasts
some of the finest vineyards
and wines in France (think Château Lafite Rothschild,
Margaux,
Petrus and many more).
Move further inland and,
generally, you will find that
property prices are somewhat
lower. Indeed, in the north and
east of the region they are
W
HEN I SAY "GOOD
life" I mean it in
the widest sense.
Buy a property in
south west France
and you will be signing up to
balmy days with plenty of sunshine,
colourful markets, glorious beaches, fine wine,
tranquil
countryside and the highest
quality of life imaginable.
I'm biased. I met my wife at
a railway station in Poitou Charentes
in 1987 and, along with
our four children, we have been
fully settled in the area for
years. Pretty much everything
we eat is either self-produced
or grown locally and, in summer,
the fields around us are
full of glorious sunflowers and
gently grazing cattle. We have
loved watching our children
grow up and settle into the
local school system. For lunch
they have been eating four
course meals, with many of the
ingredients grown in the school
garden and tended by teachers
and pupils alike - indeed, we
have been most impressed
by the education system as a
whole.
The newly formed region of
Nouvelle Aquitaine was created
by merging Poitou Charentes,
Aquitaine and the Limousin. It
includes many départements
Toby Hawkins is
one of our area
coordinators in
Poitou Charentes
For those seeking the Good Life, you will find it in
abundance in the South West of France! Sunshine,
fine wine, beautiful beaches and fertile countryside...
It's no wonder international buyers love it so much!
PHOTOS: CYRILLE MOINGEON, SHUTTERSTOCK
South West
THE