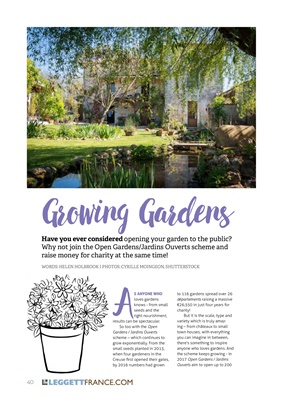 to 116 gardens spread over 26
départements raising a massive
€26,550 in just four years for
charity!
But it is the scale, type and
variety which is truly amazing - from
châteaux to small
town houses, with everything
you can imagine in between,
there's something to inspire
anyone who loves gardens. And
the scheme keeps growing - in
2017 Open Gardens / Jardins
Ouverts aim to open up to 200
A
S ANYONE WHO
loves gardens
knows - from small
seeds and the
right nourishment,
results can be spectacular.
So too with the Open
Gardens / Jardins Ouverts
scheme - which continues to
grow exponentially. From the
small seeds planted in 2013,
when four gardeners in the
Creuse first opened their gates,
by 2016 numbers had grown
40 LEGGETTFRANCE.COM
40 LEGGETTFRANCE.COM
Growing Gardens
Have you ever considered opening your garden to the public?
Why not join the Open Gardens/Jardins Ouverts scheme and
raise money for charity at the same time!
WORDS: HELEN HOLBROOK I PHOTOS: CYRILLE MOINGEON, SHUTTERSTOCK