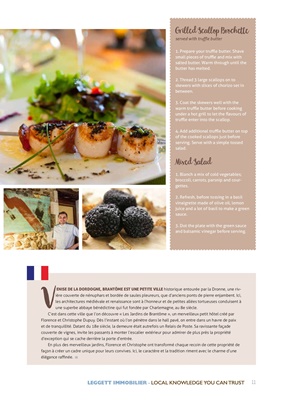 LEGGETT IMMOBILIER - LOCAL KNOWLEDGE YOU CAN TRUST
Grilled Scallop Brochette
served with truffle butter
1. Prepare your truffle butter. Shave
small pieces of truffle and mix with
salted butter. Warm through until the
butter has melted.
2. Thread 3 large scallops on to
skewers with slices of chorizo set in
between.
3. Coat the skewers well with the
warm truffle butter before cooking
under a hot grill to let the flavours of
truffle enter into the scallop.
4. Add additional truffle butter on top
of the cooked scallops just before
serving. Serve with a simple tossed
salad.
Mixed Salad
1. Blanch a mix of cold vegetables;
broccoli, carrots, parsnip and courgettes.
2. Refresh, before tossing in a basil
vinaigrette made of olive oil, lemon
juice and a lot of basil to make a green
sauce.
3. Dot the plate with the green sauce
and balsamic vinegar before serving.
11
V
ENISE DE LA DORDOGNE, BRANTÔME EST UNE PETITE VILLE historique entourée par la Dronne, une rivière
couverte de nénuphars et bordée de saules pleureurs, que d'anciens ponts de pierre enjambent. Ici,
les architectures médiévale et renaissance sont à l'honneur et de petites allées tortueuses conduisent à
une superbe abbaye bénédictine qui fut fondée par Charlemagne, au 8e  siècle.
C'est dans cette ville que l'on découvre «  Les Jardins de Brantôme  », un merveilleux petit hôtel créé par
Florence et Christophe Dupuy. Dès l'instant où l'on pénètre dans le hall pavé, on entre dans un havre de paix
et de tranquillité. Datant du 18e  siècle, la demeure était autrefois un Relais de Poste. Sa ravissante façade
couverte de vignes, invite les passants à monter l'escalier extérieur pour admirer de plus près la propriété
d'exception qui se cache derrière la porte d'entrée.
En plus des merveilleux jardins, Florence et Christophe ont transformé chaque recoin de cette propriété de
façon à créer un cadre unique pour leurs convives. Ici, le caractère et la tradition riment avec le charme d'une
élégance raffinée.