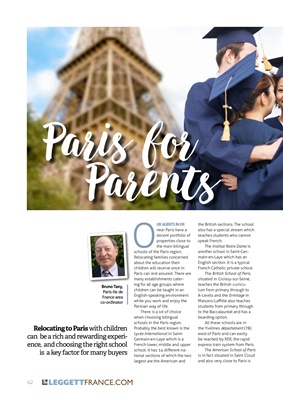 O
UR AGENTS IN OR
near Paris have a
decent portfolio of
properties close to
the main bilingual
schools of the Paris region.
Relocating families concerned
about the education their
children will receive once in
Paris can rest assured. There are
many establishments catering for
all age groups where
children can be taught in an
English-speaking environment
while you work and enjoy the
Parisian way of life.
There is a lot of choice
when choosing bilingual
schools in the Paris region.
Probably the best known is the
Lycée International in SaintGermain-en-Laye
which is a
French lower, middle and upper
school. It has 14 different national sections of
which the two
largest are the American and
the British sections. The school
also has a special stream which
teaches students who cannot
speak French.
The Institut Notre Dame is
another school in Saint-Germain-en-Laye
which has an
English section. It is a typical
French Catholic private school.
The British School of Paris,
situated in Croissy-sur-Seine,
teaches the British curriculum from
primary through to
A-Levels and the Ermitage in
Maisons-Laffitte also teaches
students from primary through
to the Baccalauréat and has a
boarding option.
All these schools are in
the Yvelines département (78)
west of Paris and can easily
be reached by RER, the rapid
express train system from Paris.
The American School of Paris
is in fact situated in Saint Cloud
and also very close to Paris is
Relocating to Paris with children
can be a rich and rewarding experience,
and choosing the right school
is a key factor for many buyers
Paris for
Parents
Bruno Taxy,
Paris-Ile de
France area
co-ordinator
42 LEGGETTFRANCE.COM