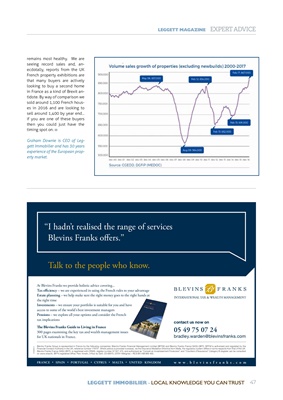 LEGGETT IMMOBILIER - LOCAL KNOWLEDGE YOU CAN TRUST
remains most healthy. We are
seeing record sales and, anecdotally,
reports from the UK
French property exhibitions are
that many buyers are actively
looking to buy a second home
in France as a kind of Brexit antidote.
By way of comparison we
sold around 1,100 French houses in
2016 and are looking to
sell around 1,400 by year end...
if you are one of these buyers
then you could just have the
timing spot on.
Graham Downie is CEO of Leggett Immobilier
and has 30 years
experience of the European property market.
LEGGETT MAGAZINE EXPERT ADVICE
47
Blevins Franks Group is represented in France by the following companies: Blevins Franks Financial Management Limited (BFFM) and Blevins Franks France SASU (BFF). BFFM is authorised and regulated by the
Financial Conduct Authority in the UK, reference number 179731. Where advice is provided overseas, via the Insurance Mediation Directive from Malta, the regulatory system differs in some respects from that of the UK.
Blevins Franks France SASU (BFF), is registered with ORIAS, register number 07 027 475, and authorised as "Conseil en Investissement Financiers" and "Courtiers d'Assurance" Category B (register can be consulted
on www.orias.fr). BFF's registered office: Parc Innolin, 3 Rue du Golf, CS 60073, 33701 Mérignac - RCS BX 498 800 465.
FRANCE  SPAIN  PORTUGAL  CYPRUS  MALTA  UNITED KINGDOM www.blevinsfranks.com
Talk to the people who know.
PWK082-fr
''I hadn't realised the range of services
Blevins Franks offers.''
At Blevins Franks we provide holistic advice covering...
Tax efficiency - we are experienced in using the French rules to your advantage
Estate planning - we help make sure the right money goes to the right hands at
the right time
Investments - we ensure your portfolio is suitable for you and have
access to some of the world's best investment managers
Pensions - we explore all your options and consider the French
tax implications
The Blevins Franks Guide bradley.warden@blevinsfranks.comges examining the key tax and wealth management issues
for UK nationals in France.
contact us now on
05 49 75 07 24
bradley.warden@blevinsfranks.com