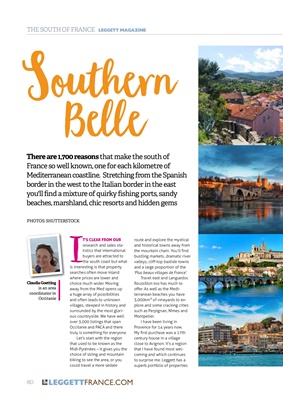 80 LEGGETTFRANCE.COM
I
T'S CLEAR FROM OUR
research and sales statistics that international
buyers are attracted to
the south coast but what
is interesting is that property
searches often move inland
where prices are lower and
choice much wider. Moving
away from the Med opens up
a huge array of possibilities
and often leads to unknown
villages, steeped in history and
surrounded by the most glorious countryside.
We have well
over 3,000 listings that span
Occitanie and PACA and there
truly is something for everyone.
Let's start with the region
that used to be known as the
Midi-Pyrénées - it gives you the
choice of skiing and mountain
biking to see the area, or you
could travel a more sedate
There are 1,700 reasons that make the south of
France so well known, one for each kilometre of
Mediterranean coastline. Stretching from the Spanish
border in the west to the Italian border in the east
you'll find a mixture of quirky fishing ports, sandy
beaches, marshland, chic resorts and hidden gems
PHOTOS: SHUTTERSTOCK
THE SOUTH OF FRANCE LEGGETT MAGAZINE
Southern
Belle
route and explore the mystical
and historical towns away from
the mountain chain. You'll find
bustling markets, dramatic river
valleys, cliff-top bastide towns
and a large proportion of the
'Plus beaux villages de France'.
Travel east and Languedoc
Roussillon too has much to
offer. As well as the Mediterranean
beaches you have
3,000km2 of vineyards to explore
and some cracking cities
such as Perpignan, Nîmes and
Montpelier.
I have been living in
Provence for 14 years now.
My first purchase was a 17th
century house in a village
close to Avignon. It's a region
that I have found most welcoming
and which continues
to surprise me. Leggett has a
superb portfolio of properties
Claudia Goetting
is an area
coordinator in
Occitanie